In 2017 Pen & Sword books published 'Objective Saint-Lo 7 June 1944 – 18 July 1944', a translated version of Georges Bernage 2011 French book 'Objectif Saint-Lo'. I was kindly given a review copy to have a look at and to provide my thoughts on.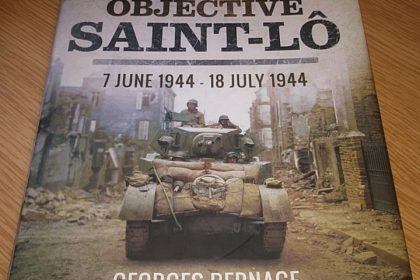 My initial impressions are that the book looks impressive. Sturdy, hard backed, great dust sheet cover photo of an American Stuart tank rolling through a destroyed French village and upon flicking through the 250 or so pages I was immediately amazed at the amount and quality of the hundreds of glossy pictures contained within.
The book as its title suggests concentrates on the battle for Saint-Lo in the days after the D-Day invasion. Whilst this book could easily have looked at the battle from the operational or strategic level it actually gets down to the nitty gritty of describing the engagements on the ground through the eyes of the men who took part. The book uses testimonies from combatants on both the American and German side of the conflict giving it a well rounded, non biased commentary. It is well written by Georges Bernage and excellently translated by Heather Williams.
I did enjoy reading this book as it really puts you in the midst of the action, boots on the ground getting hustled back and forth as the battle ebbs and flows from the American and German perspective.
What I wasn't keen on was the fact that the maps used in the book were taken directly from the French version of the book so are still in French and it completely lacks an index which is very handy if you are researching a unit, place or individual and need to spot check details.
These 2 small nuisances aside I recommend getting this book as it is certainly a page turner. It is the first book I have read that actually looks into the Battle of Saint-Lo in detail and I wasn't disappointed as I came away with a better understanding of the difficulties affecting either side in this conflict and especially in the microcosm of the Normandy hedgerows after D-Day.
A worthy edition to any WW2 enthusiasts library.