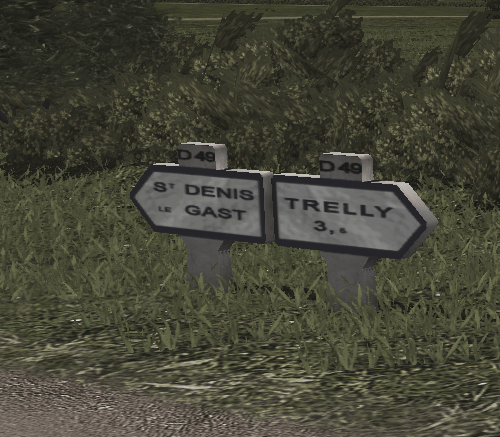 Make your own authentic milestone signs for maps – no more random signs!
See the screenie as an example of two I made for my WIP map.
This package contains 9 files plus instructions .txt. 4 files are .MDR (model)files and when dropped in your Z mod folder will create four further milestone slots, 3,4, 5 & 6, in the editor's flavor objects section.
Three of the other files are template texture files for the signs so that you can create some text for the locations you want to see in your map. Use some art software to add these over the blank canvas and save as "milestone 3 1".bmp, or, "milestone 5 1".bmp for signs that point left. For the opposite direction signs – pointing to the right -(remember to mirror your text when editing these ones) save your sign as "milestone 4 1".bmp or "milestone 6 1".bmp.
Two other .bmp files included are my own creations to serve as examples of the text positioning and font size. I found a straightforward Arial font works well for Normandy milestone signs but there are plenty of free fonts online to download to suit all styles.
The Steppenwulf Oct 2015
https://drive.google.com/open?id=1dT83ukoxVdg5PJm_N6IDODZxXRwU5ep2