FGM Company Sergeant Major
FGM MEMBER
Joined

Mar 31, 2018
Messages

626
Age

53
Location
Bit of a flashback for me. I started in the military, Marines, in 1986. I changed over to the Army later and in one of my adventures I did my first (of a few) deployments to Iraq. I was a forward observer and commanded a M981 Fire Support Vehicle. Not sure if it's in the game, I'll have to dig around, but the M901 is and the M981 was designed to look just like it. The thinking was since the fire support vehicle was such a priority vehicle for the enemy to destroy, that it would blend in a little better with the AT tracks.
My M981 in Iraq 2003

Me next to an abandoned compound of some sort

PFC Fulton, my driver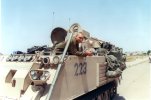 The old war wagon settled in some desolate spot.