FGM Company Sergeant Major
FGM MEMBER
Winner
Nemesis
Loser
Titan
Was The Result A Draw?
No
Combat Mission Version
CMBN
Comments
A battle with Titan. I was attacking with the Americans vs Titan's Germans in a huge CMBN battle.
I think Titan was expecting me to go armor heavy, so instead I went with a heavy artillery, TRPs, and US airborne infantry attack. I had zero vehicles of any kind and 673 infantrymen.
I attacked in three areas. Two of the attacks (the left and the center) were weak feints designed to hold Titan in place. The far right was a serious attack. But the right flank attack also had an option to push to the center once I pushed halfway down the map. I also kept a reserve that could reinforce either the center or left feints and turn those feints into a real attack.
Titan put up initial resistance in a series of small houses very close to my start line. Titan had maybe 15 men (five 3 man recon teams). Titan's men were badly outnumbered at the point of attack, but managed to put up horrifying resistance. This was very concerning because it took A LOT of small arms ammunition and casualties to wipe out these 15 men. Upon further review, ALL of the buildings in this area and on the ENTIRE map were very stoutly made. This would cause major issues for me later as the buildings could soak up massive amounts of artillery and small arms fire and keep their occupants safe.
I cleared this forward resistance zone and pushed forward.
Titan helped me throughout the game by making his units visible. Some units were placed just forward of trees or in little patches of open terrain inside of forests. Sometimes his units would move as Titan was running a mobile defense. These units were spotted and hit.
It also seemed like Titan did not play with cover arcs. So I would expose a scout momentarily, the scout would get shot at, and then I would duck my scout back to cover and return fire with other units. Indeed, Titan gifted me a lot of kills by moving around and doing other things to give his positions away.
Titan had an AT Gun Bunker on the far left flank and another AT Gun Bunker in the center that covered the right flank. This latter bunker was luckily placed in such a way that I could largely bypass it if I stuck right to the right map edge.
I had not used my 105mm artillery to this point. My scouts heard a tank of unknown type at a road junction. It appeared to be stationary, so I called down a heavy artillery barrage on this tank hoping to get an immobilization or kill. As it happens, I managed to immobilize what turned out to be a Panther. A later barrage hit the immobile tank, KO'ing it.
On the left flank, a Tiger and a second Panther revealed themselves. Now my feint troops in the left and center began to work overtime moving around and trying to hold the attention of the armor and the rest of Titan's units on the left while I broke through on the right.
A huge smoke screen from 105mm howitzers allowed me to get two right flank infantry companies across an open danger area and into a vast forest. Moving through this forest would get me very close to the map's single Victory Location (a massive village). As my two infantry companies moved forward against no resistance, I felt like I had broken through. These units pushed many hundreds of meters behind Titan's lines.
I could hear trucks bringing Titan's men from the left over to the right. I put mortar fire on the roads in an attempt to close them to traffic, but this largely failed.
Follow on units prepared to cross the open danger area on the right. I tried to move them across without a smoke screen because the smoke screens used too many 105mm shells. This was not working as Titan engaged my follow on forces by keeping units in buildings to my left and pouring fire into my left flank. Crossing units took heavy losses. Units waiting to cross were hit with Titan mortars. My follow on forces were stalled.
It eventually got so annoying that I launched a serious infantry attack from my right toward the center and called in artillery fire missions to end this flank threat. My reserve was also committed and reinforced the center feint. Titan was driven back and his men killed with very few losses to me. However, my men used massive amounts of ammunition. As my men cleared Titan out of some buildings, they spotted the Tiger tank that had come from the left flank to the center and (thank God) immobilized on a muddy road. I promptly cancelled my center attack and just bypassed the immobile Tiger. All of my center attacking units retreated back to the right and rejoined the main attack. Best to let sleeping cats lie.
The good news was that I pushed Titan back far enough in the center that he could no longer interfere with me as I crossed the open danger area on the right.
My center attack did take the extra time to get behind the center AT Gun Bunker and knock it out. I also sent a small infiltration team on a mission to the far left flank to KO Titan's remaining AT Gun Bunker. Much later in the game, they were successful in their mission.
Meanwhile, my two "breakthrough" infantry companies on the right pushed forward quickly against no resistance and left their comrades far behind. These companies came to another open danger area--a road that they had to cross. I shoved scouts across and found that the crossing site was undefended. I began to rejoice, but then Titan follow on forces (including Titan's battalion commander himself) arrived and killed my scouts as they tried to hold the door open for their comrades. Titan then occupied buildings on the other side of the crossing site and managed to halt my advance. This was annoying since again Titan only had a small force (maybe 2 squads?) to oppose my two infantry companies, but they were again defending fortress-like buildings. Titan then got two mobile AA guns into play to further halt my advance. Worse, the clock was ticking and more Titan forces were flowing over to block me.
My infantry companies transitioned from march formation to attack formation and I called down heavy fire missions. Titan's two AA tracks were KO'd, his infantry defense collapsed, and I crossed another open danger area. However, Titan now had forces in place to block me right before the VL.
My next move was to put down another smoke screen and push into the VL. I used the cover of smoke to get close to Titan's men and killed them. I entered the VL which was a huge (800 meters by 250 meters) village.
By now, Titan had taken catastrophic losses. Yet Titan's remaining Panther was causing me lots of problems. Worse, his men showed zero signs of surrendering even with 5 out of 6 of them being KIA, WIA, or MIA. Even truck drivers whose trucks had been destroyed fought fanatically, which was odd.
I pushed into the VL and took maybe 70% of it against moderate resistance. But then I started taking MG and sniper fire from a huge cathedral and other stout buildings. It looked like Titan was going to make his final stand in the 30% of the village that he controlled. I halted my advance for 10 minutes or so just to mass some combat power (the men trailing behind the two breakthrough infantry companies had to catch up) for a final push. I had over 300 men remaining and Titan was down to 50 or 60 men.
However, I realized that my men were running low on ammunition. As I looked at my men, my mortars, and my artillery tubes, maybe 50% were empty or low on ammo.
To prove the point, my men could barely participate in the exchange of gunfire with Titan's men in the cathedral and I lost 35 or so men in 12 minutes to sniper and MG fire.
I decided that I had won the game on points and that it was stupid to attack when 20% of my men were armed only with hand grenades. I offered for a cease fire and Titan accepted.
In the end, it was a minor victory for my Americans.
So now I am 5 wins to 0 losses vs. Titan. Who is the REAL ladder champ, Titan? Who is your Daddy, boy?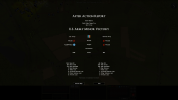 Last edited: