Hello all,
some of you might know that I'm very new to this forum and please excuse me if this is the wrong section to post this (my first post).
After getting the hang of it it I tried to improve general performance and graphics. Which led me to various yt videos and online posts.
To save new ones like me some time I thought I could make a post with the info I collected.
Performance
I found this video from
SmartWargames
(which is a bit long but if you make it through or skip some parts
) it is
very useful!
1.
he speaks about the Nvidia "Manage 3D settings":
which should be set like this: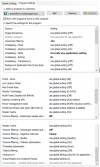 2.
Ingame I set it to

which improved my fps
quite a lot.
For reference :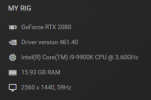 Graphics
1.
I had to get "Reshade" - https://reshade.me/ | https://1drv.ms/u/s!Ar0-nWIeMPIA2H92xQF65S8BrDMd?e=FAVkQe
After setting it up like he explained I tried to find settings which I like... a lot! I use the following:

Here I have 2 reference Pics:


I hope this helps some guys and hopefuly i didn't broke any forum rules, sorry in advance!
At the end, I'd like to thank SmartWargames again!