FGM Lieutenant General
Staff member
Joined

Nov 5, 2009
Messages

12,773
Reaction score

8,689
Age

56
Location
Time at last to kick this off.
Here are the factions:
ROMAN
S:
1. BLUE:
@Bootie
&
@Badger73
2. RED:
@Nelson1812
3. GREEN:
@Josey Wales
4. Purple:
@Nathangun
5. Barbarians: myself (
@chiquichops
will join me later as assistant barbarian horde leader)
RESERVE:
@Wellsonian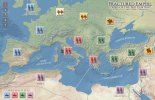 RULES
The rules are dead simple.
Only 5 turns.
In the map above is starting set up -- Roman factions fighting for control of the empire (Red, Blue, Purple & Green) and Barbarians waiting on the borders to raid and invade!
ATTACKS
Each faction gets one attack per turn -- rules for attacks basically the same as the King Is Dead mini campaign.
Any level attack wins the invaded region or repels the invader.
(You can attack into any adjacent region across dotted line border, one battle only per region only. You can attack into a region from which an attack has already been launched, you cannot attack into or from a region that is already under attack) -- see FLEETS section below for attacks across sea regions.
Barbarian attacks are decided by random die roll.
Orders sequence is determined by % results in previous round -- although 1st Round order is determined by a random draw.
ARMIES
:
ROMAN: Romans (197 - 284AD)
FRANKS: Frankish (260 - 495AD)
ALAMANNI: Germanic Foot Tribes (260 - 592 AD)
GOTHS: Germanic Horse Tribes (260 - 492 AD)
SASSANIDS: Sassanid Persians (224 - 349 AD)
BATTLES
The attacker usually sets up the FOGII challenge -- maps can be pot luck or by mutual agreement (and I guess appropriate to geographic regions fighting in)
FLEETS:
Each faction has ONE fleet available at start of the campaign.
This can be used to launch an amphibious attack across either the Western or Eastern Mediterranean or the Black Sea from one friendly province bordering that sea area to another enemy province bordering that sea area.
A normal land attack is then played out.
If the attack is successful, the Fleet Counter is returned to the 'Available Fleets' box.
If the attack fails, then the Fleet Counter is eliminated for the rest of the campaign.
There is no naval warfare as such -- two or more faction's fleets may operate in a sea zone in the same turn -- their attacks must just comply with the general attack rules.
VICTORY CONDITIONS:
Victory points are awarded at end of Turn 5: 1 point per regions conquered and controlled outside your core starting regions. (minus 1 point for any of your starting regions you may have lost))
Barbarians get 1 point per region of the Empire controlled at end of Turn 5.
THIS IS VERY CUT-THROAT -- a faction could be eliminated with just three defeats -- but the main idea is to have fun!
OPTIONAL RULE
for discussion:
Only the faction in control of ITALIA (and therefore Rome) can use Praetorian Guard units in their FOGII battles.
Last edited: