FGM Company Sergeant Major
FGM MEMBER
Joined

Mar 31, 2018
Messages

744
Age

54
Location
Here's a quick review on my heroic 45mm AT gun. I positioned it behind a hedge line for concealment, but didn't give it an arc of fire, just let the AI do its thing at first. As the battle continued, and as
@Lews Therin
committed a push through this part of the map, I kept the gun engaging in the same direction. If we had armor this battle, I know the gun wouldn't have been nearly as successful.
The Maxim MG next to the gun was a bonus. That crew got shredded down to 1 Pixeltruppen and I took a few turns to limp him and his wheeled MG over to protect the gun.
The pic shows the AT guns position and the field of fire it had. The numbers are the destroyed half-tracks, but not in the specific order they were taken out. If you look at the remining round count, he was pretty much out of ammo when the cease-fire took place. (Also note we had originally started with 45 min and had agreed to cease-fire at 15 min to go) *Just noticed the 5 should be on the other side of the bridge, but you get the idea.
The bodies are mostly the German attackers who managed to make it to the hedge line. I posted a pic earlier where the AT gun blasted one of the attackers with an HE round.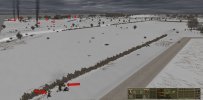 Last edited: