FGM Lieutenant General
FGM MEMBER
Joined

Oct 11, 2010
Messages

11,515
Reaction score

5,629
Age

59
The photograph
"Burst of Joy"
shows – from left to right – Lt. Col. Robert L. Stirm, Lorrie Stirm, Bo Stirm, Cindy Stirm, Loretta Stirm, and Roger Stirm on March 17, 1973 at Travis Air Force Base.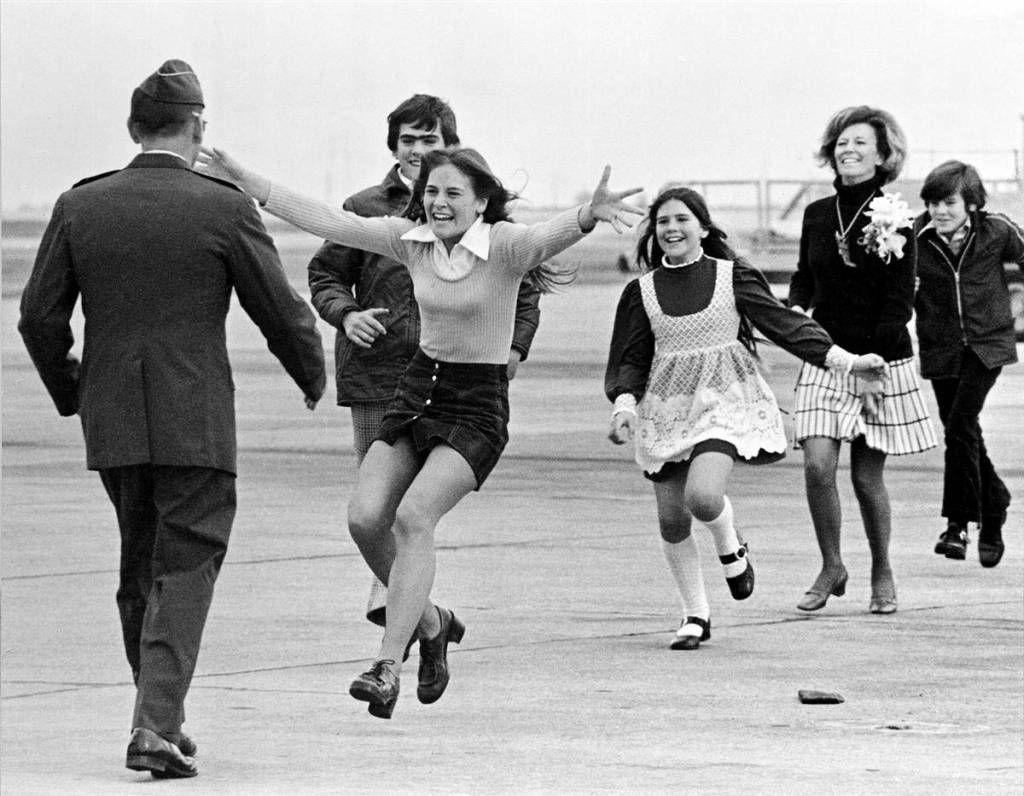 On an overcast day in march 1973, Associated Press photographer
Slava "Sal" Veder
captured an image of a POW being greeted by his family. The image, which became the quintessential homecoming photograph of the Vietnam Era, was aptly titled "Burst of Joy." The photograph was sent around the country, running in countless newspapers. It also won a
Pulitzer Prize in 1974
.
But what of the family? How did they come to be racing towards each other on a tarmac in California? What happened after the 'burst' of Veder's camera's flash?
The hotly contested Vietnam War concluded with the signing of the Paris Peace Accords on January 27, 1973. One of the provisions addressed the issue of U.S. POWs. Once U.S. troops began to withdraw, POWs would also be released and allowed to return home. In early 1973, Operation Homecoming started. From February 12 to April 4, 54 flights saw the return of 591 American POWs home. One of these flights included Lt. Col. Robert L. Stirm, the soldier in the famous photograph.
Born in San Francisco, Stirm joined the Aviation Cadet Program before graduating as a 2nd Lieutenant in the U.S. Air Force in November 1954. On February 6, 1955, he married his wife Loretta. Together they had four children: Lorrie, Robert, Roger, and Cynthia ("Cindy"). He deployed to Vietnam in August 1967. He wasn't there long before getting shot down two months later over Canal Des Rapides Bridge in Hanoi. That night, he was captured by North Vietnamese troops. His story as a POW mirrors that of other POWs during Vietnam. Stirm survived torture, starvation, and over 280 days of solitary confinement. In the six years he was held as prisoner, Stirm moved through several different camps including the infamous Hanoi Hilton.
Operation Homecoming was Stirm's way out of the conditions of North Vietnamese prison camps. On March 17th, Stirm arrived at Travis Air Force Base in California with around 20 other POWs. In addition to the press, a large crowd of family members and supporters came to welcome the POWs home. Upon landing, Stirm gave a short speech to reporters on behalf of the flight's POWs. Across the tarmac, his family waited for him to finish the formalities in the family's station wagon. Once his speech concluded, his family got out of the car and raced to greet him. After six long years, they were finally reunited. Lorrie, on remember the moment, later stated, "I just wanted to get to Dad as fast as I could." Lorrie, as shown in the photograph running down the runway with her open arms, was only 9-years-old the last time she saw her father. Following only steps behind Lorrie in photograph was her mother and her three younger siblings.
If this were a Hollywood movie, this is when the credits would roll. The perfect "Happily Ever After" story which included hardship, love, desperation, and homecoming. However this is not a Hollywood movie and there is more behind the scenes of this photograph. Three days before Stirm returned home from Vietnam, he arrived in the Philippines for evaluation. An Air Force chaplain handed him a "Dear John" letter. Loretta informed him their relationship was over. "I have changed drastically–forced into a situation where I finally had to grow up," the letter read in part. "Bob, I feel sure that in your heart you know we can't make it together–and it doesn't make sense to be unhappy when you can do something about it. Life is too short." Upon his return to the states, the couple tried to work out their marriage. Lorrie remembers "So much had happened—there was so much that my dad missed out on—and it took a while to let him back into our lives and accept his authority." Within a year, the couple divorced.
Stirm remained in the military before retiring as a colonel in 1977 and settling in Foster City, California. He remarried but divorced again while his ex-wife Loretta remarried and moved to Texas.
Of the famous photograph, Stirm said
, "I have several copies of the photo but I don't display it in the house." He does reiterates what he likes about the photograph, "I was very pleased to see my children—I loved them all and still do, and I know they had a difficult time—but there was a lot to deal with." The main issue he takes with the photograph is not the situation in which it was created – the return of a POW who endured unimaginable hardships – but of the woman in it. "In some ways, it's hypocritical, because my former wife had abandoned the marriage within a year or so after I was shot down," Stirm recounts. "And she did not even have the honor and integrity to be honest with the kids. She lived a lie. This picture does not show the realities that she had accepted proposals of marriage from three different men. . . . It portrays (that) everybody there was happy to see me."
The four children see the photograph in a different light. They all have the picture mounted in their houses. "We have this very nice picture of a very happy moment," Lorrie says, "but every time I look at it, I remember the families that weren't reunited, and the ones that aren't being reunited today—many, many families—and I think, I'm one of the lucky ones."
from
historybyzim
research.archives.gov