FGM Major General
FGM MEMBER
Joined

Oct 11, 2010
Messages

9,470
Reaction score

3,012
The last day of World War One was November 11th 1918, known as Armistice Day. Despite November 11th being the last day of the war, on many parts of the Western Front fighting continued as normal. This meant, of course, that casualties occurred even as the people of Paris, London and New York were celebrating the end of the fighting. -
After three days of intense negotiations in a rail siding just outside of Compiegne, the German delegation that had been brought to the personal carriage of Marshall Ferdinand Foch was ordered by its government in Berlin to sign any terms put on the table by the Allies. Potentially serious social upheaval had forced the government in Berlin into giving out this instruction as people had taken to the streets as a result of chronic food shortages caused by the British naval blockade. Therefore, the German delegation led by Matthias Erzberger signed the terms of the Armistice.-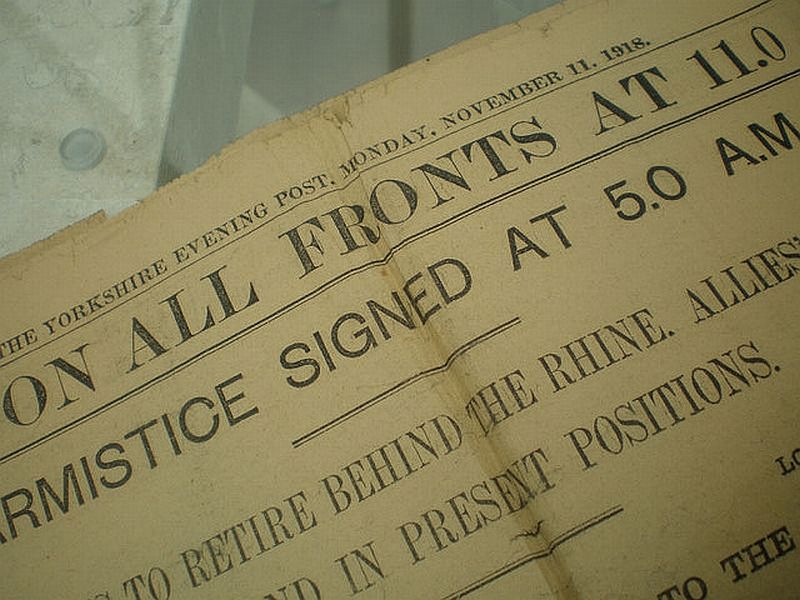 This was done at 05.10 on November 11th. However, the actual ceasefire would not start until 11.00 to allow the information to travel to the many parts of the Western Front. Technology allowed the news to go to capital cities by 05.40 and celebrations began before very many soldiers knew about the Armistice. In London, Big Ben was rung for the first time since the start of the war in August 1914. InParis, gas lamps were lit for the first time in four years. But on the Western Front, many tens of thousands of soldiers assumed that it was just another day in the war and officers ordered their men into combat.-
Quite a number of the final casualties were at Mons in Belgium – ironically one of the first major battles of the war in1914. Ina cemetery just outside of Mons in the village of Nouvelle, there are nine graves of British soldiers. Five are from August 1914 while four are dated November 11th 1918.-
The Commonwealth War Graves Commission (CWGC) states that their records show that 863 Commonwealth soldiers died on November 11th 1918 – though this figure also includes those who died on that day but of wounds received prior to November 11th.-
In particular, the Americans took heavy casualties on the last day of the war. This was because their commander, General John Pershing, believed that the Germans had to be severely defeated at a military level to effectively 'teach them a lesson'. Pershing saw the terms of the Armistice as being soft on the Germans. Therefore, he supported those commanders who wanted to be pro-active in attacking German positions – even though he knew that an Armistice had been signed. In particular, the Americans suffered heavy casualties attempting to cross the River Meuse on the night of the 10th/11th with the US Marines taking over 1,100 casualties alone. However, if they had waited until 11.00, they could have crossed the river unhindered and with no casualties. The 89th US Division was ordered to attack and take the town of Stenay on the morning of November 11th. Stenay was the last town captured on the Western Front but at a cost of 300 casualties.-
Soldiers of the 353rd Infantry, near a church at Stenay, Meuse in France, wait for the end of hostilities. This photo was taken at 10:58 a.m., Nov. 11, 1918, two minutes before the armistice ending "The Great War" went into effect.-
The CWGC records that the last British soldier killed in World War One was Private George Edwin Ellison of the 5th Royal Irish Lancers. He was killed at Mons (where he had also fought in 1914) at 09.30, just 90 minutes before the ceasefire.-
The last French soldier to die was Augustin Trebuchon from the 415th Infantry Regiment. He was a runner and was in the process of taking a message to his colleagues at the front informing them of the ceasefire. He was hit by a single shot and killed at 10.50. In total, 75 French soldiers were killed on November 11th but their graves state November 10th. Two theories have been forwarded for this discrepancy. The first is that by stating that they died on November 10th before the war had ended, there could be no question about their family's entitlement to a war pension. The other theory, is that the French government wanted to avoid any form of embarrassment or political scandal should it ever become known that so many died on the last day of the war.-
The last canadian to die was Private George Lawrence Price of the Canadian Infantry (2nd Canadian Division) who was killed at Mons at 10.58. Officially, Price was the last Commonwealth soldier to be killed in World War One.-
The last american soldier killed was Private Henry Gunter who was killed at 10.59. Officially, Gunter was the last man to die in World War One. His unit had been ordered to advance and take a German machine gun post. It is said that even the Germans – who knew that they were literally minutes away from a ceasefire – tried to stop the Americans attacking. But when it became obvious that this had failed, they fired on their attackers and Gunter was killed.
Information about german casualties is more difficult to ascertain. However, it may well be the case that the last casualty of World War One was a junior German officer called Tomas who approached some Americans to tell them that the war was over and that they could have the house he and his men were just vacating. However, no one had told the Americans that the war had finished because of a communications breakdown and Tomas was shot as he approached them after 11.00. -
Officially over 10,000 men were killed, wounded or went missing on November 11th 1918. The Americans alone suffered over 3,000 casualties.-
Men of U.S. 64th Regiment, 7th Infantry Division, celebrate the news of the Armistice, November 11, 1918.
historylearningsite.co.uk
U.S. National Archive
flickr.com
army.mil