CMSF Ramadi Government Centre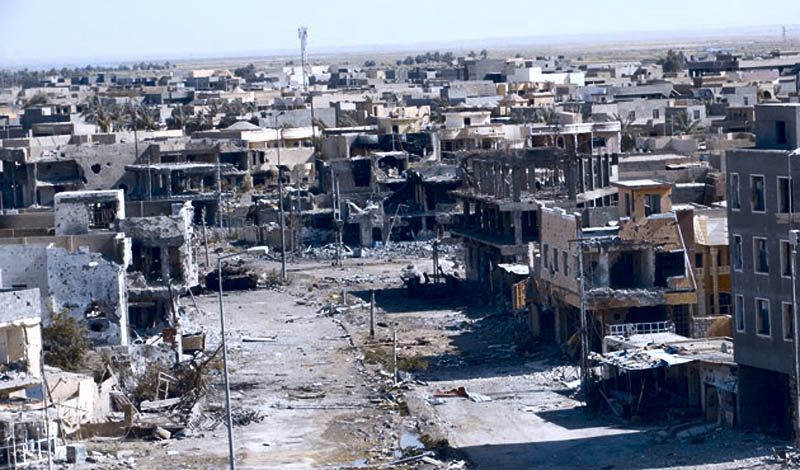 ***Transferred from the Repository***
"To you from failing hands we throw / The torch; be yours to hold it high"
At long last I am uploading the full Ramadi Government Center map to the Repository, for the productive use and enjoyment of any and all.  I find it unlikely that I will be doing further scenario design in the near future, but I look forward to seeing what the community may do with it.
For those not familiar, this map faithfully recreates the 1.7km x 750m urban core of Ramadi, Iraq, a key battleground during the US-led Anbar counterinsurgency of 2004 – 2007. The main east-west highway, Route 10, aka "Main Supply Route (MSR) MICHIGAN" and the Anbar Government Center, nominal and besieged seat of the US-backed Anbar Governorate are the central elements of the map, together with the huge Saddam Mosque, the city cemeteries and the market district.
There is no scenario and no AI plan, and only a single Uncon unit embedded in this map, so it should be usable with any version or modules of CMSF.  While you can certainly tour around town with a few vehicles, given the high building density any attempt to fight a scenario with a significant number of units on the full map will likely be futile.  It is best to use it as a "master map" and carve out smaller chunks for scenarios.
For best looks, I strongly recommend uploading my Improved Shopfront, Colonnaded Mosque and Islamic Cemetery mods to your Z file.  Also highly recommended are Mods Mixed Uncons and M1A1 and Ryujin's various Iraq uniform and unit mods.
For more information on the map and the battles for Ramadi, please check out  [url=http://www.battlefront.com/community/showthread.php?t=92372]this thread[/url] on the Battlefront Forum.  And most important, remember the many who suffered and died there not very long ago. Many still walk among us, bearing the wounds of that time and place.
LongLeftFlank