CMBN Les Hauts Vents High Detail Master Map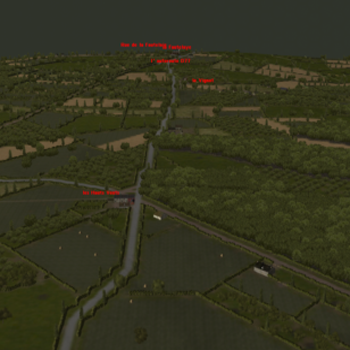 Map only. No set-up zones or victory locations. Use your own creativity to create scenarios.
This is the high detail version of the western half of my 16 square km master map for the region around les Hauts Vents and Pont-Hebert. High detail does not mean higher resolution, it means the the map is populated with a a few hundred flavour objects and a huge amount of variation in ground detail. The map is pristine. No buildings are shown damaged and no craters are present. I have decided to omit telephone poles due to insufficient information.
Permission is hereby granted for anyone to crop or modify my map in any manner and to incorporate it into any user created scenarios provided you do so for non-commercial purposes.
The map will only show the roads correctly if you install Falaise's 22.5 degree roads and use the stock game paved roads. An historically correct look to the buildings will be achieved if you also install my new skins previously posted.
Enjoy,
Kandu.