507th Boots on the Ground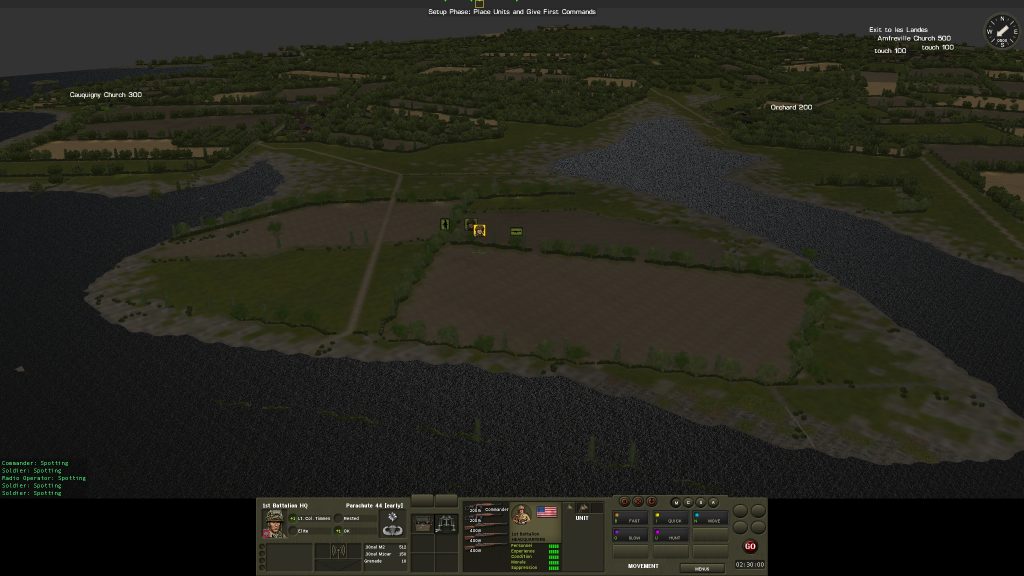 82N01 – 507th BOOTS ON THE GROUND
Lt. Col. Timmes and Lt. Col. Millet Converge on Amfreville shortly after first light on D-Day.
Scenario 1 of 16 in my forthcoming series "82nd Airborne in Normandy"
Play single player as U.S. vs A.I. German only.
This scenario is designed both as a role-playing (living history) and as a wargaming scenario. It is both uncomplicated and challenging. Playing as the American Lt. Col. Timmes C.O. 2nd Battalion 507th Parachute Infantry Regiment, 82nd Airborne Division you must attempt to locate and secure your objectives with only a handful of troopers while marching several kilometers through countryside infested with a numerically superior foe. This scenario is an exercise in stealth and patience. Try to avoid firefights except those necessary to seize and hold your objectives. You may count on the Germans being confused during the initial hours of your drop, more so due to the dispersal of your battalion. Your immediate objectives are (1) secure the western end of the la Fiere causeway at Cauquigny and (2) secure the village of Amfreville.
REPLAY ABILITY: The scenario has three equally-weighted German A.I. plans. Each plan has slightly different German set-ups and includes up to 6 triggers from a choice of 9 different triggers. Triggers locations touched by the player's troopers that activate a response in the German A.I. That's a lot of variability! Even if you play the game exactly the same way each time, you could have three different German responses depending on which plan the A.I. activates.
GAME VERSION: Scenario was created in CMBN v4.03 with ALL updates and add-ons installed. If you are not playing withe the same version the scenario will not load and if you do not have the vehicle pack installed you will not see the French Renault panzers essential for play.
The scenario contains the following MOD TAGS:
france – calls some of my graphics mods which fail to be called by the internal 'france' setting
225f – calls Falaise's 22.5 degree roads (MUST BE INSTALLED!)
hvbld – calls Kandu's French farm buildings (optional)
hquspara – calls Kandu's US para HQ GUI icon
fluspara – calls Kandu's floating US para unit icon
82nd – calls Juju's portrait icon further modified by Kandu
82para – call 82nd para uniform mod by author ..?..
hqheer – calls Kandu's German HQ GUI icon
flge – calls Kandu's German floating unit icon
h91id – calls Juju's portrait icon further modified by Kandu
NOTE: Falaise's 22.5 degree roads MUST be installed in Game:/data/z and is included in the zip of the scenario file. The other mods that are called by the tags are optional and not necessary for play. They are all part of my personal extensively modded and mod-tagged collection.