82nd Airborne In Normandy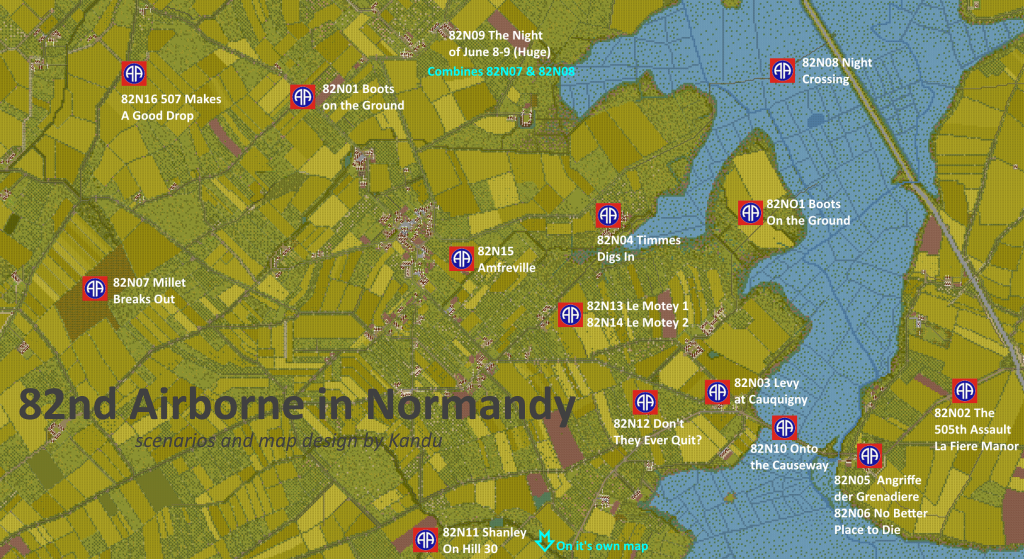 by Kandu
Here follows a series of 16 base scenarios plus variants that cover some but not all of the actions of the 82nd Airborne in Normandy from June 6th through 10th, 1944. Most of the scenarios centre on the fighting around the La Fiere Causeway. A single exception is Lt. Col. Shanley's defence of Hill 30 which is presented on a separate map.
Previously these scenarios were posted independently. I have decided to collect them together as they are thematically a unity. In making this move, the txt files of all the scenarios were re-written to correct errors and omissions as well as provide a little new information in a few instances. The scenarios were also renumbered for clarity and consistency.
These scenarios replace any with the same name that you may have downloaded previously.
Work-in-Progress: You may have noted from the attached map and the absence of some numbers that some of the scenarios are yet to be completed. These are a work-in-progress and will be added here when completed. When completed a notice will be posted at the Few Good Men website.
MOD INSTALL REQUIRED: For some of the highways to look correct you must install Falaise's mod, '22.5 degree roads'. I have included a mod-tagged copy below that is compatible with my scenarios.
SPECIAL SCENARIO RULES: Scenarios 82N07 Millet Breaks Out and 82N11 Shanley on Hill 30 have special scenario rules which must be followed for the scenarios to play properly.
WARNING: I have not had time to play-test all scenarios due to the rate at which I have been publishing. If you feel that the scenario length or any other parameter needs adjusting, you have my permission to do so. Please provide me with feedback if you feel anything should be changed to improve any scenario.
ADDITIONS
November 25: Added scenario 82N07 – Millet Breaks Out
December 2: Added scenario 82N08 – A Night Crossing