CMBN, CMFB, CMRT Scenario Revisions for H2H Play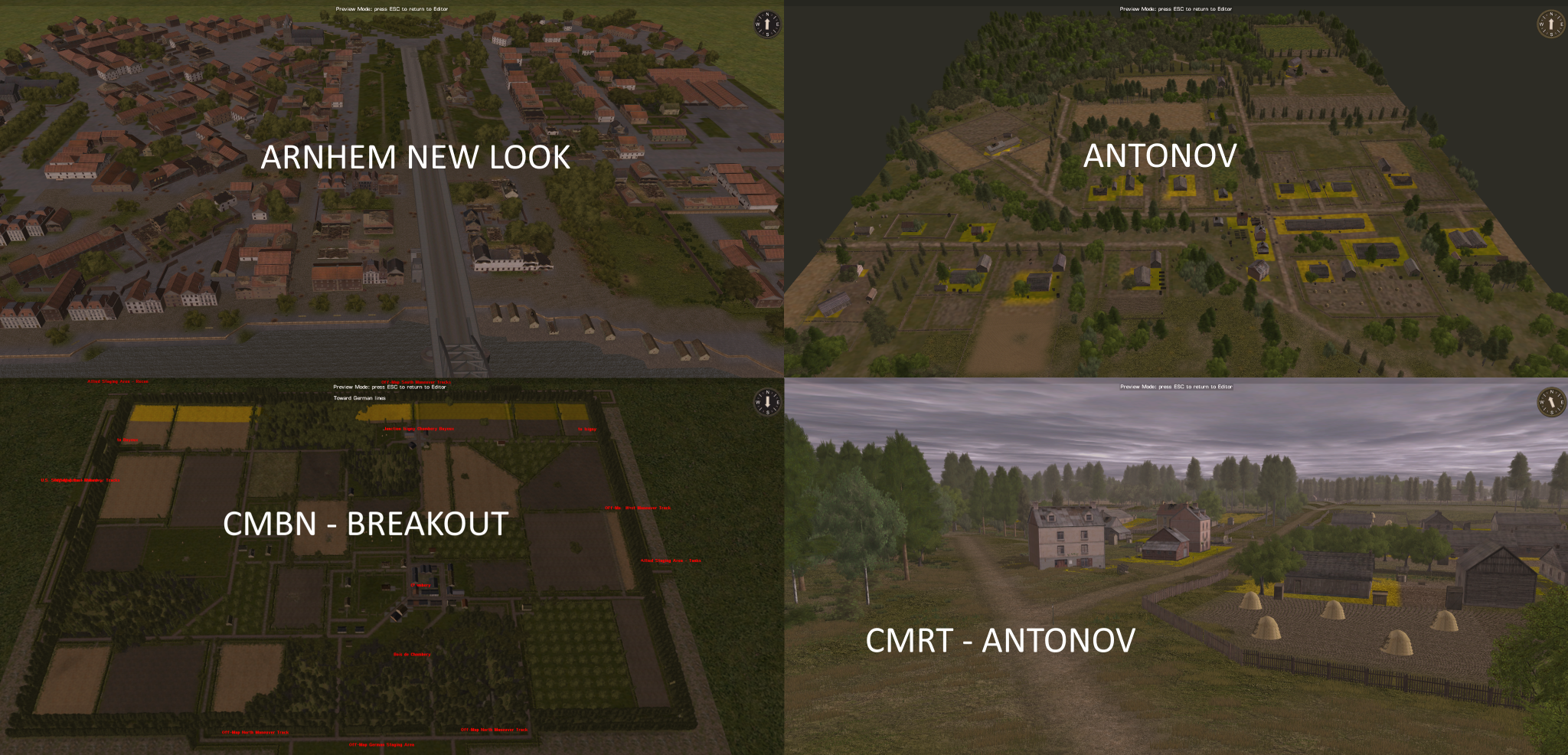 The following is a collection of reworked Combat Mission scenarios for CMBN, CMRT and CMFB. I have variously made changes to either the map, the victory conditions, or the method of entering the field. All were done to 'try' to make the scenarios more H2H friendly or enjoyable. But that is just my own opinion. I am not the original creator of any of these scenarios only the modifier.
CMBN Breakout changes: Off-map areas created for variable entry both sides for variety and suspense.
CMBN A Man Can Die But Once changes: Removed all of the windows and most doors from common walls shared between building modules. Made Arnhem look more Nederlands by changing most roofs to peaked and covered in red clay tiles. If the programmers have taken internal doors and windows into account (I don't know) then this should significantly switch the dynamic in favor of the defenders and make it more costly for the Germans to dislodge the British paras.
CMFB Chaos at Ferme Diedenhoeve changes: Made game more H2H friendly by expanding American deployment zones to unlock the fixed American positions for greater variability in American deployment.
CMRT Antonov changes: Complete terrain overhaul. Variable Russian entry via reinforcements. Corrected text to correspond to actual German OOB – there are no Nebelwerfers nor two Tigers as suggested by the old text. Modified victory locations.
CMRT Bonfire of the NKVD changes: Slightly modified setup zones. Reduced Russian wire from 20 to 15 (no more blocking 80% of the map since the Germans have no way to get through the wire. Harmonized victory locations. Special wire rules included.
That's all for now folks.
Kandu