La Fiere Causeway June 6th, 1944 – Update version 2021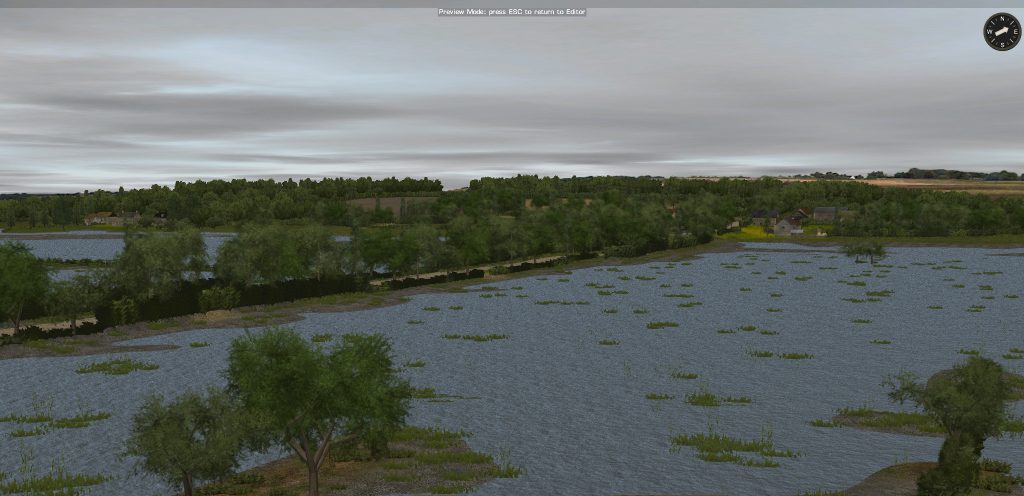 Play single player as German vs A.I. American only. Original author's A.I. plans have not been touched in this revision.
ACKNOWLEDGEMENT by Kandu
The original work is entirely M1 Garand's who has obviously spent many! hours making a gorgeous map and has done marvelous work constraining the map features to fit into CMBN's orthogonal/diagonal system. I have similarly constrained my revisions to match M1 Garand's layout.
GAME VERSION: Scenario was revised in CMBN v4.03 with ALL updates and add-ons installed. If you are not playing withe the same version the scenario will not load and if you do not have the vehicle pack installed you will not see the French Renault panzers essential for play.
REVISION NOTES
German Armor: Replaced M1 Garand's German panzers with the historically correct Beutepanzers – Renault R35. This model was not available at the time M1 Garand created his scenarios.
Topography: Modified contour lines as per topographical map available at https://www.geoportail.gouv.fr/carte and distorted these to match M1 Garand's orthogonal/diagonal distortion.
Bocage: Amount, type, and additional field divisions as per aerial photos taken between 1950 and 1965 available at https://www.geoportail.gouv.fr/carte. Most, but not all, low bocage changed to tall, banked, St. Louis bocage.
Flood Level: Made causeway narrower as per veteran's descriptions and modern aerial color photos of a 'high' flood line. Replaced numerous 'marsh' tiles with 'shallow ford'.
Trees: More apple orchards as per near contemporary aerial photos from https://www.geoportail.gouv.fr/carte. Quantity of trees as per contemporary photos and not as per overhead google maps views.
Buildings: Some removed and one new added as per contemporary aerial photos. Some reconfigured for number and location of windows and doors etc.
Flavour Objects: Milk bottles, crates of vegetables, sacks of grain and all food stuffs, safely brought indoors during the day. Insufficient time during the day to move most of the goods in barrels.
German Artillery: A non-functional 88mm Flak battery was removed and replaced with a 75mm leichte Infanterie Geschutze 18
Setup Zones: Minor change for German player.
OFFICER'S NAMES
Added officer's names where known as listed below.
Lt. Levy commanding D Co, 2nd Bn, 507th PIR – defending western end of causeway at Cauquiny. Historically, the German attack forced his 17 man platoon to fall back on Lt.Col. Timmes' position in the orchard NNE of Cauquiny.
Lt. "Red Dog" Dolan commanding A Co, 1st Bn, 505th PIR. holding le Manoir at the eastern end of the causeway.
A QUESTION OF TANKS
A post-battle photograph proves that at least three German tanks were destroyed, two Renault R35 and one Hotchkiss H39. Secondary sources make contradictory claims. One includes a PzKpfw III in the mix, another claims two tanks destroyed on the causeway and two more destroyed during the approach by Lt. Levy's men defending Cauquigny. CMBN has no Hotchkiss vehicles so I have settled on three Beutepanzer Renault R35. I did not change the number of tanks nor add a Pz.Kpfw III because I did not want to upset M1 Garand's play balance.
WHAT WAS LEFT UNCHANGED
AI plans have not been touched. In fact, I did not look to see if there are any. The composition of the infantry platoons has not been touched with the exception that the American paratroops have been upgraded to 'crack'.
Revised by: Kandu