Lt. Col. Timmes Digs In – H2H – V2b and SP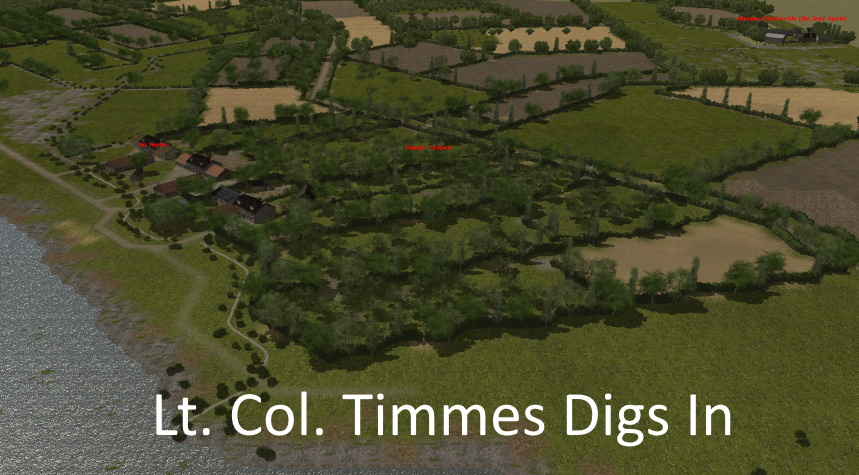 Version 2 is an update for play balance. See note at end.
V2b fixes an 'excess machineguns' bug.
These are scenarios 4-H2H and 5-SP in my series 82nd Airborne in Normandy. The SP is playable only in H2H as there are no A.I. plans.
Separate scenarios were designed for H2H and SP play with different deployment zones, German artillery support and German unit parameters to account for differences in the poor A.I. vs human normal performance.
INTRODUCTION: On June 6, 1944 the 2nd Battalion 507th Parachute Infantry Regiment, 82nd Airborne dropped horribly scattered. The battalion CO, Lt. Col. Timmes dropped into the flood waters of the Merderet River. The wind dragged him 200 yards before he could finally extricate himself and move west to dry ground. After assembling about 20 troopers he moved off towards the north end of the la Fiere causeway at Cauquigny. En route he picked up another 30 inlcuding a machinegun team and Lt. Levy of D Company with a dozen or so. Leaving Levy's group to hold Cauquigny, Timmes set off towards Amfreville, the designated battalion assembly point. However, strong German resistance forced him back towards the Merderet and he dug-in at a nearby orchard to await developments.
German garrisons at Amfreville and the Grey Castle consist of 9.Ko., 10.Ko., and 12.sKo. each of which contribute a number of platoons to co-ordinate an attack against Timmes' troopers.
Play Balance Update: CMBN's Scenario Editor assigns 'green' experience and 'low' motivation to German Ersatz troops. While this is reasonably correct historically in most instances, it makes for a significantly imbalanced scenario. The green troopers become unmotivated almost the instance they come under fire. For play balance I have arbitrarily reset the values to 'regular/normal' for German troopers, 'veteran/normal' for their officers and 'veteran/high' for the German C.O. and his team.