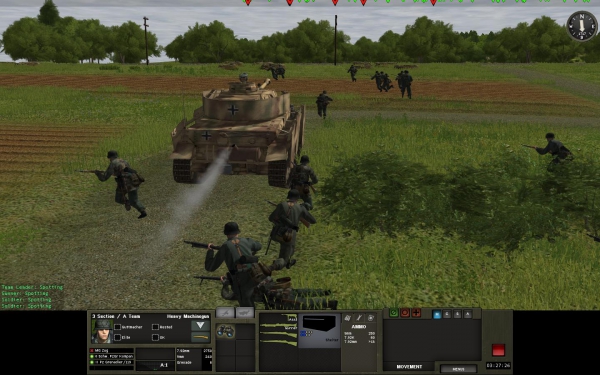 East of France Lorraine, November 1944 the 10th,
G Company / 2nd Battalion Armored Infantry has fought its way to Les Monts de Jeanne d'Arc overlooking from the ridge the town of Saint Jean des Clopants.
On the MLR, the Company has been deployed along the ridge, foxholes dug and ammo resupplied. 1 x M8 and 1 x M8 HMC are deployed backward on their center with another 1 x M8 HMC on the right. We are ready to repulse any counter attack that the Krauts might throw at us as usual.
Our reserves are just behind :
An Engineer squad is near La Croix Saint Paul church with 1 x Stuart M5A1 and 1 x AT gun. E Company 3rd Platoon is near the Gue Lecronnier and provides a base of fire for the Recon elements with 1 x M8, its two mortars and AT gun being located at La ferme Blanchard.
F Company 2nd Platoon is on the right back slope of the ridge behind D Company on the left of Table du Roy.
1st and 3rd Platoons / G Company / 3rd Battalion 8 x M4 tanks, a small Recon party with 2 x M8, 1 x M8 HMC, 1 x Stuart M5A1 is emplaced on the right between La Table du Roy and Bois des Sangliers.
G Company / 3rd Battalion HQ with 3 x M4 tanks, 2 x M1O TD from G Company / 2nd Battalion and 2 x M7B1 Priests are and on the right on the far side of Gue Lecronnier.
2nd Platoon / H Company 4 x M4 Tanks are in reserve at Le Bourg
The reminders of E and F Companies / 2nd Battalion's platoons will rejoin within an hour at the least and an hour and a quarter at the most. They have just completed their refitting and drawing their last greens replacements.
In all we have been able to muster 17 tanks, 2 light tanks, 3 M8 HMC, 2 M7B1 and 6 M8 recon armored car. There won't be any more coming. We don' t have the spare parts and replacements won't be available for the next few days. We have been able to cannibalized some tanks in order to get these working and on the line
……./ /…………………………………………….
Starting at 17:15, we will take every opportunity to attack toward Saint Marcel (South bridge), La Riviere village (west bridge) and Saint Jean des Clopants (East bridge). Before doing so, you are ordered to have a close look from the OP of the Flak tower to evaluate the way you are going to proceed. Once you have drawn up a plan, ascertain targets and give them priorities, weight the advantage and inconvenient as well as the timing of a smoke barrage for the assault. The FO team at the Flak Tower will relay your decision to the artillery fire control and will call the shots. Meanwhile, the staging of the platoons will be done on the FUP (Forming Up point) and they will thereafter move to their LD, ready to jump off as soon as the smoke is sufficiently masking the enemy side, but no later. It would not be good to be caught short of the objective, once the smoke dissipates . A 105mm M4 tank, an M8 HMC, and the squad of Engineers could be an asset during Saint Marcel assault. However don't expose them needlessly.
It is essential for a successful assault that all flanking fire on the approaches should be countered with all available means.
Note that E and F Companies won't be able to arrive before 01:00 to 01:15 as well as :
4th Battery – 4 x 155mm Howitzer M1
P47D Fighter Bomber – Light Rocket –
A last thing, the Luftwaffe has made quite a few hit and run attack since last week. Their fighter bomber, in pair or alone, are coming in low with the sun in their back, usually just before sundown, so keep your tanks and vehicles wide apart.
As you know General Patton has an eye on us, so I don' t want anyone to screw up the assault. We have only one choice, get into Saint des Clopants and set the table for him at the feld kommandantur.
Scenario designer:Gregory KELLER – Snake Eye – Snake.eye@sfr.fr –
A special Thanks to George McEwan for having had a look at it and his good advices