CMBN Shanley on Hill 30 FINAL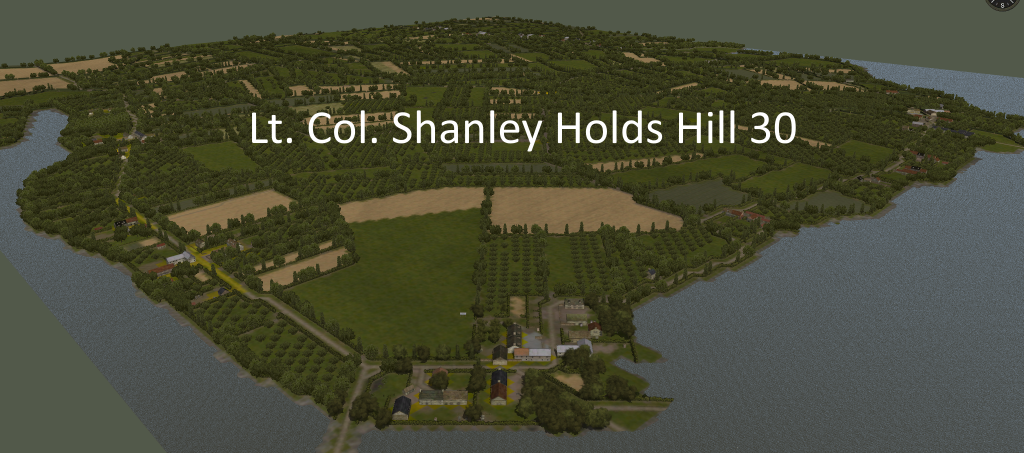 Play H2H only. No A.I. plans for single player games.
This is the final revision of the original scenario. The original scenario was too historical resulting in a game that significantly favored the American paras despite the overwhelming German force. Victory points have been rebalanced, German units upgraded from their historical 'Green' to game balancing 'Regular' and play time extended from 2 hours to 2 hrs 30 min. The surrounding water, while historically mostly shallow, has been made deeper to prevent silly unhistorical amphibious run-arounds.
This is a bocage intensive, large map, large scenario and highly detailed including flavour objects; very graphics intensive on the computer. The attacking player must be very patient and methodical, willing to move slowly.
The scenario begins at 0430 hours on 7th June 1944 and includes all of Shanley's roughly 400 ad-hoc All American (and a few Screaming Eagles) defenders of Hill 30. Their opponents are various elements of the 91. Luftlande Division supported by a few Renault tanks and an off-map artillery battery, in total outnumbering Shanley's force slightly over 2:1.
The map is true-scale accurately reproduced at 5 and 2.5 meter contour intervals with bocage, buildings and orchards reproduced from aerial photos taken six years after the event – so 'near contemporary' and much more accurate than either today's Google maps or the WWII 1:25,000 maps.
Created in CMBN v4.03, game engine 4, with CW, MG, The Great Swan, Vehicles installed. If your game does not load you may need one of the foregoing, or wait a little longer due to graphics demands.