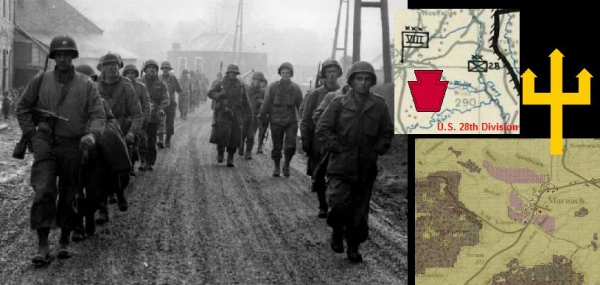 16 December 1944: the Keystone Division had taken a beating in the Huertgen Forest and was licking its wounds in a quiet part of the line. The story is well known by now – American units on the 1st Army front were anticipating a calm Christmas. The German Army, expected to sit out the winter in fortifications along the Siegfried Line, instead launched a major surprise offensive. The 110th Infantry Regiment, one of the components of the Keystone Division, lay right in the path of the spearhead of the 2nd Panzer Division.
Play: Solo as either side, or H2H in either real time or turn-based play.
Map size: 2km x 2km
Force size: reinforced company vs. battalion (-)
Game length: 2:00 (variable)
Terrain Type: hilly forest
Weather and environmental conditions: wet, fog
AI plans included for both sides
Designed with 2.0 upgrade.

TWC Bloody 110th At Marnach
(1.3 MiB)
DOWNLOADS - 287