FGM Major General
REGISTERED USER
Messages

8,715
Likes

3,830
Location
Turn Rate

6+ pw
Games

2-4 games.
Email

ricoschacherl@gmail.com
Been doing a little bit of work on a version 2.0 of the Risk Europa campaign for after when this is concluded.
Toying with expanding the teams to 3 players?
Also expanding the range of units and change the way the QB battles are fought and incorporate casualties.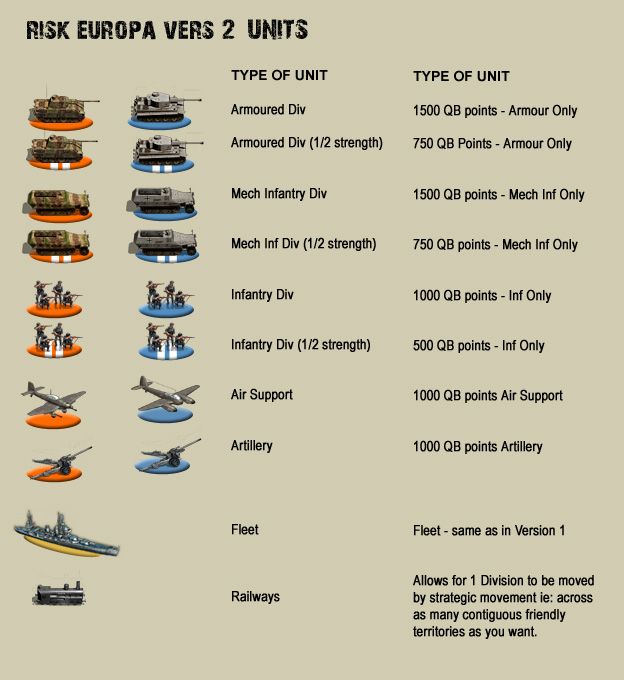 Teams can chose from Armour, Mech Infantry and Infantry Divisions.
- each allows the player to purchase a set amount points worth of troops and equipment for the QB battle.
A QB size battle is set up to allow for the maximum points needed by the players -- all still played on mostly medium maps.
If a unit suffers more than 50% percent casualties in the battle (tank units count vehicles, Inf nits count men), then it loses a strength point - or is eliminated if already at half strength.
If an attacker wins a Total or Major Victory - the defender is usually pretty much destroyed.
If an attacker wins a Tactical or Minor Victory -- any surviving forces may retreat, if any survive the 50% casualty cut-off.
Units can be replenished during the purchase phase.
I have some ideas of how casualties can be tracked -- still need to see if this is too complicated to be practical.
To avoid battle getting too big, the cost of buying units and supplying them might go up a bit.
AIR SUPPORT - this is purchased and used up when deployed, and then needs to be repurchase (it'll be relatively cheap)
ARTILLERY -- these are permanent units (probably quite expensive to supply) -- and are lost if a defending side is eliminated or forced to retreat.
This is all still in development.
All suggestions welcome.