Vive la France! Riders have arrived from the Burgundian frontier with the first reports of the brave French forces endeavours to secure our northeastern borders! Having smashed the Mad Duke of Burgandy's attempts to take Artois, French forces have marched hard towards Flanders. Stymied by the damp, soggy, lowland terrain, the French have been slow to engage the Burgundian rabble. Finally, on a bleak, rock-strewn plain....barely fit to grow the most modest of tulips, the French have lined up to do battle with forces the Mad Duke has sent forth to hold the line.
As the French form up, it appears the whole of Burgundian nobility, such as it is, have answered the call of the Mad Duke. Some seem to have been so rushed into service that they have forgotten their horses.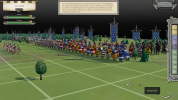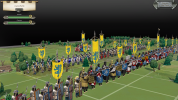 The French C&C has massed his mounted knights on the left while the Burgundian C&C has massed a rather formidable assembly of mounted knights in the center. The Burgundians have quick access to a small hill on their left, presenting them an opportunity to hold high ground in the upcoming battle. The French, meanwhile, have an expanse of rocky terrain they must cross on their Left and Center-Left.
The French C&C has ordered two units of light archers into the rugged terrain in hopes of getting some deadly, iron (steel?)-tipped volleys loosed on the advancing Burgundian Right. Mounted units are ordered forward and to the French left, around the rocky terrain, in hopes of getting position on the Burgundian right flank. The remainder of the French line is in complete disarray as the C&C attempts to reposition units to meet the Burgundian advance, which is steady with good military discipline.