Joined

Mar 6, 2012
Messages

7,877
Age

46
Location
I like the look of this.
I reckon it'd be right up your ally
@Vartuoosi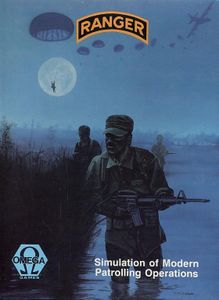 ​
Ranger: Simulation of Modern Patrolling Operations
is a tactical solitaire board wargame released by Omega Games in 1984. It was billed as a "game of modern patrolling". The game was designed by Bill Gibbs, and focused on contemporary small unit actions, placing the player in the position of a patrol leader.
Ranger is a tactical level game where you take the role of a squad, or platoon leader. You'll be assigned a specific patrol mission and then you'll plan out and execute that mission.
The game is primarily played on a glossy map, that you write on with dry erase markers. Your mission card provides you infiltration and exfiltration coordinates as well as the location of the target. Again, you will physically mark these on the map. At the target, you might need to perform a recon of an enemy emplacement, or set up an ambush, or rescue a downed pilot – also dictated by your mission card. You have to pick the members of your squad, deck them out with tactical gear, and then plan out the patrol.
Last edited: