Most Decorated US Destroyer of World War II...
17
Battle Stars
Presidential Unit Citation
USS O'Bannon (DD-450) moored to a buoy in mid 1942. The ship is painted in Camouflage Measure 12(Modified). Wartime censors retouched this image to remove radars atop the foremast and Mark 37 dun director.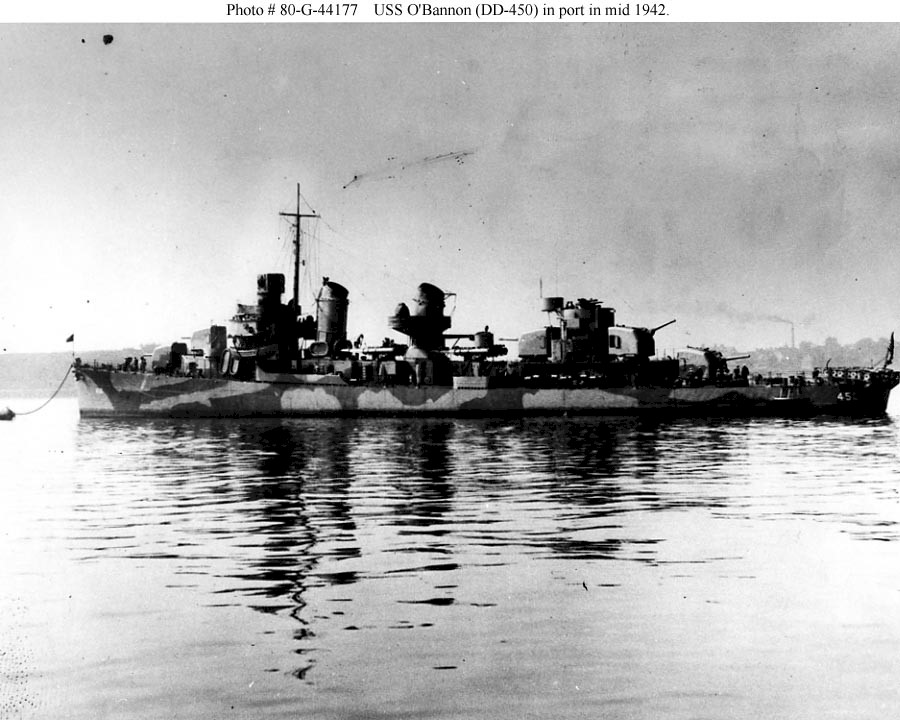 Presley Neville O'Bannon (1776 - 12 September 1850) was an officer in the United States Marine Corps, famous for his exploits in the First Barbary War. He received a sword for his role in restoring Prince Hamet Karamali to his throne at Tripoli in recognition of his bravery. That sword became the model for the Mameluke Sword adopted in 1825 as the Marine officers' sword that is still part of the dress uniform today. Born in Fauquier County, Virginia, O'Bannon entered the Marine Corps 18 January 1801. As a First Lieutenant, he commanded a detachment of seven Marines in General William Eaton's little force in the War with Tripoli. During the combined operations with the U.S. Navy, he led the successful attack in the Battle of Derna 27 April 1805, giving the Marines' Hymn its immortal "to the shores of Tripoli". Although some sources maintain that at this battle Presley O'Bannon became the first man to raise the American flag over foreign soil, his superior William Eaton had done so a few months earlier while traveling on the Nile from Alexandria to Cairo. According to tradition, Hamet Karamanli was so impressed with O'Bannon's bravery, that following the attack, he presented Lt. O'Bannon with his personal Mameluke sword as a gesture of gratitude. Upon his return to the states, the state of Virginia presented him with a silver-hilted sword featuring an eaglehead hilt and a curved blade modeled after the original Mameluke given him by Hamet. Its blade is inscribed with his name and a commemoration of the battle of Tripoli. After resigning from the Marine Corps 6 March 1807, O'Bannon moved to Logan County, Kentucky, where he built a home in Russellville. He served in the Kentucky state legislature 1812, 1817, 1820-21 and in the Kentucky state senate 1824-1826. He died 12 September 1850 in Franklin County, Kentucky. His remains were moved to the Frankfort Cemetery in 1919. Perhaps due to the Marines' distinguished record during this campaign, including the capture of the Tripolitan city of Derna after a long and dangerous desert march, Marine Corps Commandant Archibald Henderson adopted the Mameluke sword in 1825 for wear by Marine officers. After initial distribution in 1826, Mameluke swords have been worn except for the years 1859-75 (when Marine officers were required to wear Army M1850 foot officers' swords), and a brief period when swords were suspended during World War II. Since that time, Mameluke swords have been worn by Marine officers in a continuing tradition to the present day as of 2007.