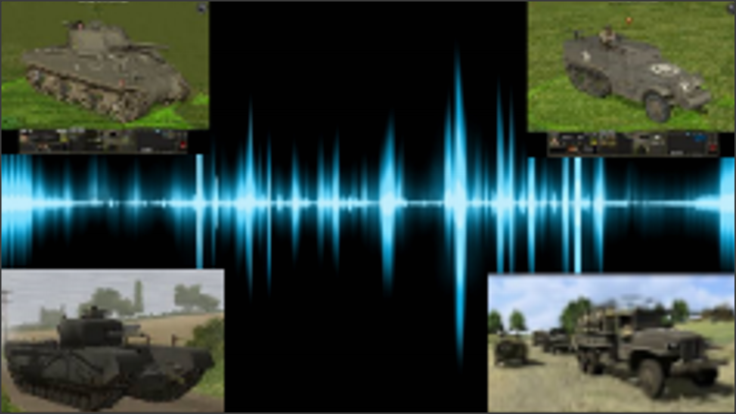 Battle of Normandy, Allied vehicles sounds
a) This Mod will depend the side that you are playing your CM Battle of Normandy Allied/German Side
B) If you like playing the Allied this mod is for you otherwise you have to wait to the Mod Part 2 (soon).
c) To try to enjoy this little mod, I recommand you of course to put the folder regarding to the side
that you want to play.
1 Allied Player ONLY
vehicle loop engine idle heavy (Sherman engine)
vehicle loop engine idle (Jeep Wyllys)
vehicle loop move heavy track (Churchill)
vehicle loop move light track (Halftrack)
vehicle loop move medium track (Sherman)
vehicle loop move wheeled light (Jeep Wyllys)
vehicle loop move wheeled medium (Gmc Truck)
Chat squawk Allied Player
Follow
2 German Player
3 Commons both sides
Small Arms falling cartridges
flames
4 Big Guns Falling Cartridges and move of Turrets.
Procedure
Make a research of the folder (vehicle loops) from your CMBN game.
Backup your files X:\Battlefront\…\vehicle loops
Replace and put the folder (vehicle loops mono Allied), in your Z folder and let's begin the game.
Good to know :
Sounds Vehicles Mod are based of real vehicles engine
These Part one will be for the Allied Vehicles.
Another part is in the tube if you will enjoy this one.
(note: because there is no heavy tank in the Us army in Normandy
I put the engine from the Churchill Tank), Categorie heavy tank in the british and commonwealth.
If you don't like It, just put it out of your Z folder
(the taste is "delete" of your keyboard very easy).
Waiting to your's comments critiques or recommandations.
Enjoy,!!
3j2m7
https://drive.google.com/open?id=1kAjaaZ5Q-ijFbL51b1QxgFInw5v_a5yW