CMSF Op BARRAS – A Coy 1 PARA Sierra Leone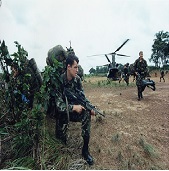 | | |
| --- | --- |
| WHAT VERSION OF COMBAT MISSION IS THE FILE FOR? | CM : SHOCK FORCE |
| WHAT IS THE SCENARIO / MAP TITLE? | Op BARRAS – A Coy 1 PARA Sierra Leone Sep 2000 |
| FILE TYPE? | SCENARIO VS AI ONLY |
| DOES THE SCENARIO / MAP REQUIRE BATTLEFRONT DLC OR MODS? | YES |
| WHAT SIZE IS THE BATTLE? | MEDIUM |
| WHAT ARE THE MAP DIMENSIONS? | 1968m x 640m |
| WHAT TYPE OF BATTLE IS THIS? | ATTACK |
| WHAT IS THE LENGTH OF THE SCENARIO? | 2 HOURS 30 MINUTES |
| WHERE IS THE SCENARIO / MAP BASED? | SIERRA LEONE |
| WHEN IS THE SCENARIO BASED? | SEPTEMBER 2000 |
| WHAT TIME OF DAY IS THE SCENARIO BASED? | DAWN |
| WHAT IS THE WEATHER IN THE SCENARIO? | CLEAR |
| NATIONALITY OF SIDE ONE | BRITISH |
| NATIONALITY OF SIDE TWO | WEST SIDE BOYS |
| THIS SCENARIO IS BEST PLAYED AS… | SIDE ONE VS AI |
| SUBMITTED BY? | Combatintman |
In the conflict ravaged former British Colony of Sierra Leone, on 25 August 2000, a R IRISH patrol was captured by the West Side Boys. The patrol members were held hostages in Gberi Bana North of the Rokel Creek. In response to the crisis, the UK launched Operation BARRAS deploying both D Squadron 22 SAS and A Company 1 PARA to recover the hostages and defeat the West Side Boys.
This scenario recreates A Company 1 PARA's clearance of Magbeni on 10 September 2000 and is based on an account written by Major Lowe, the company commander in the British Army's Tropical Operations Manual.
In real life, A Company, 1 PARA was completely successful in clearing Magbeni as were D Squadron, 22 SAS at Gberi Bana and Operation BARRAS effectively removed the West Side Boys as an actor in the Sierra Leone conflict.
This mission is a Blue vs AI mission only and requires a fully patched version of CMSF with the British Forces Module.
For best immersion in this mission, I recommend that players download the British Army Temperate Climate Camo Mod which is available at the Battlefront Repository here:
http://www.battlefront.com/index.php?option=com_remository&Itemid=314&func=fileinfo&id=478