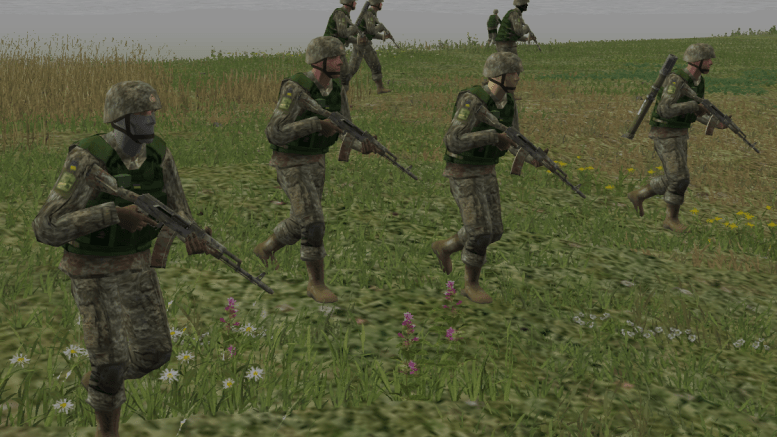 UPDATED TO VERSION 1.1
To make this mod work you need to delete previous version of it. This is version 1.1.
Changelog
Fixes
Camouflage MM-14 was reworked as well – now its prints (size, scale, order) are more accuratly represented.
More details to uniform/gear were added
Overall appearance was changed towards HD quality – better textures were used in this version.
Gentlemen I'm proud to present you replacement of Ukrainian Digital Camouflage. I'm proud because for this specific mod I took my insparation from one of the most decorated units
of Ukrainian Armed Forces: 72nd Mechanized Brigade. This mighty formation appeared in this game several times during campaigns, and certain references to it were made in scenarios made by other players. Today, I'm presenting you my vision of this wonderful formation of Ukranian Armed Forces. Just a little thing for you to know – this formation is active since December the 5th of 1941. Yes, it went through WW2 destroying nazies all around the Europe. After decades and decades of peace this formation is back in the game – protecting Ukraine from russian invasion. It took a step in into all of the most massive clashes with russian hybrid forces and for those who knows some stuff – its the same formation what was protecting promzone of Avdiivka. Now, if you are interested in its brief history here's the link to page on wikipedia where you can find out a little more about this formation: https://en.wikipedia.org/wiki/72nd_Mechanized_Brigade_(Ukraine)
Last but not least you can use this mod along with my Mabuta-Mk 2 mod. Meaning that there are no errors between them – if you use them both (and I strongly suggest you to do so) you will get the latest and the best Varan camo in Mabuta-Mk 2 uniform for a standard camo which you can use for spec ops or very well trained units, and you can use this mod for digital uniform for the most of your forces. Basically that was my plan – to deliver both rare and massively used uniforms. So to conclude: if you will use both mods you will get Mabutas in Varan, you will get Digital/Olive Gorkas and you will get Digital uniforms themselves. This is version 1.0 of this mod and trust me I will do updates on it.
I hope that you will enjoy this mod. Glory to Ukraine!
https://drive.google.com/open?id=18mMcLMx99w-hS1EUGNlq2Xv1HJ_nBOqP