Joined

Nov 28, 2011
Messages

4,597
Age

37
Location
Operation Windsor has always had a special place in my war gaming heart. Insane amounts of destruction compressed into a small geographic area. The taking the village of Carpiquet and the adjacent airfield from the fanatic (no other way to describe their defense) 12th SS. The the makeshift defense by the Canadians against an attack in the middle of the night.
Pretty sure there's a forum topic post floating around here somewhere showing my first attempts to make a Carpiquet map, however it became apparent the approach was all wrong. The map was to large, the bulk of the scenario (playing as the Canadians) would be getting across the open ground, and the airfield buildings became far to difficult to model correctly. To top it all off this plan wasn't even taking into account the southern attack.
However I've been reading Hubert Meyer's "The 12th SS: The History of the Hitler Youth Panzer Division" and got some ideas going about how to break it down into possibly a four scenario campaign.
Firstly this is a good map showing how the Operation took place...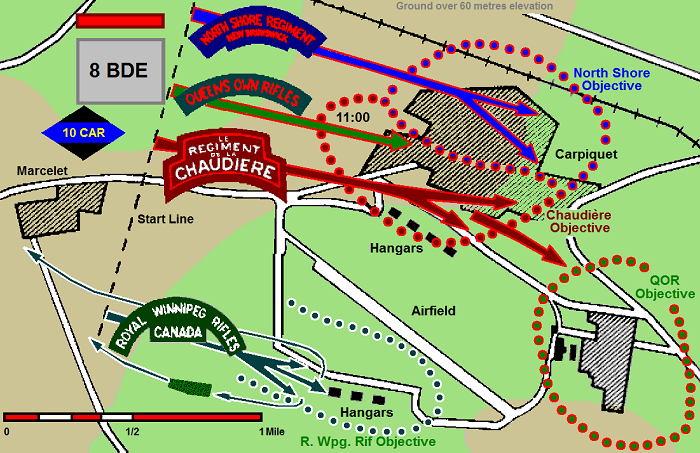 And here's my idea of breaking it down into manageable chunks...
July 4th - 5th
Designed to be Played as Canadians...
[] equals allied links to follow on battles.
() equals Axis links to follow on battles.
Battle 1: The Set Piece -> Continue a massive barrage on an already heavily damaged town. Two weakened battalions - reflecting heavy losses in the hour and half long approach under German arty fire - enter the urban area over to and try to clear it out from the fanatic defenders with armored support.
[Possible shared Air Support with Battle 2] [North Shore Regiment Survivors move to Battle 4]
(Any German Survivors move to Battle 3)
Allies Must Win.
Battle 2: The Southern Foley -> The Royal Winnipeg Rifles confusion plagued attack on the southern defenses and hangers. German armored counterattack.
(Any German Survivors move to Battle 3).
Battle 3: The Command Buildings -> Historically the Queens Own Rifles were beaten back and never took the buildings as German Panthers arrived on the scene. Would be the difference between a Total and Regular Campaign Victory. Beat history.
Battle 4: The Counter Attack -> Fresh SS forces launch an armored counter attack at night from the north in an attempt to distract battered Canadians so they could withdraw their forces from the command buildings. Gameplay terms desperate night defence.
Still being mulled over in my head but with all this research and maps sitting here on my computer it would go to waste if I didn't do anything with it. The smaller version of this would just be worried about Battle 1, but that may be too easy for the allies if they can be more risky with their troops not having to worry about future engagements. Since this all occurs within the span of just under 24 hours replenishment of losses would be very limited.
Thoughts?