CMRT Mini Campaign: Alarmeinheiten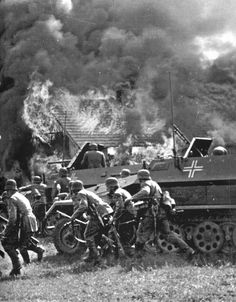 It is late World War Two on the Eastern front. You command a German alarm unit (alarmeinheiten) and are tasked to counter and destroy multiple Soviet breakthroughs in order to hold the front line. Your alarm unit will maneuver in multiple battles on a 13.5 square kilometer map while protecting rear area logistics from partisans. Decide if you want to command units of mostly common German vehicles or a more exotic mix of German vehicles to include some limited, rare and unique vehicles. Make decisions on how you will employ your limited resources to hold the line. Will you call up a weakened reserve unit or maybe an SS unit specializing in anti-partisan operations? Should you rely on vehicles from the battalion repair shop? The battalion aid station contains weakened, unfit, low morale troops. Maybe these troops could form a blocking force while the alarm unit struck the flank of the latest breakthrough? There are a handful of Luftwaffe security troops at the airfield that you might use somewhere. These are all your decisions to make Commander. As you look up from the map board and radios in your command track the sound of combat comes from the east. Which of the four avenues of approach is it this time………? Good luck!
The one battle scenario is three hours long and requires Fire and Rubble.