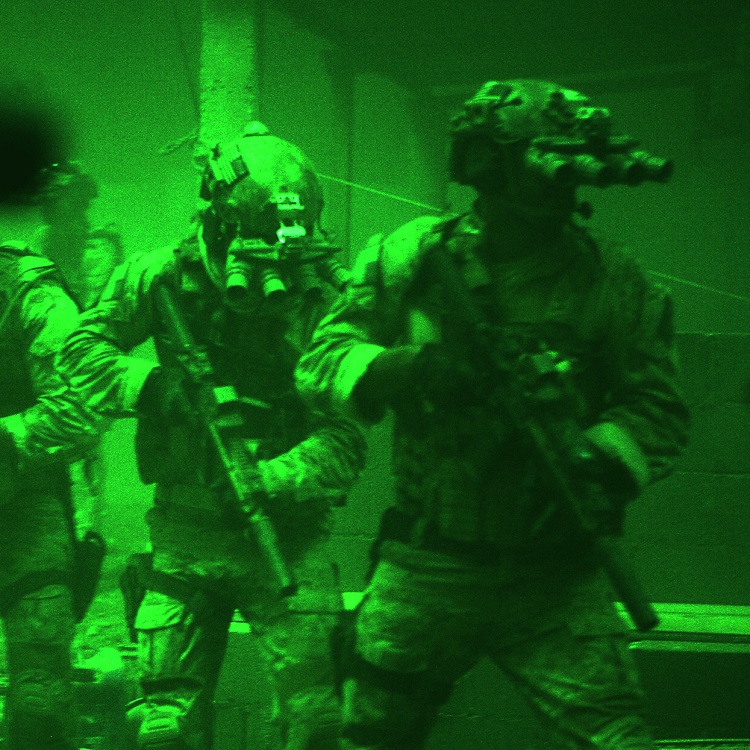 This scenario depicts the SEAL Team 6 raid on Osama Bin Laden's compound in Pakistan on 02 May 2011 and has been put together following requests to do a SOF-type mission by some of the guys on the Battlefront Forum. A thread about the mission can be found here:
http://community.battlefront.com/topic/123252-mr-president-i-think-weve-found-osama-bin-laden/
The scenario, while depicting the real events on real ground is semi-historical because it explores some 'what-ifs' that could have occurred during that night. This was a conscious design decision and was aimed at making the scenario more interesting than a simple assault on the compound.
Inevitably some compromises were required due to what is the art of the possible in the CMSF mission editor. As an example, there are no US SEALs in the unit pick so I have used USMC units as the best possible fit. Clearly, to play this scenario you will need the base game and the USMC module. It is best played in real time mode but it has been tested in WEGO so is playable in that mode. It is just much more difficult to synchronise your assault, cover arcs and manage ammunition expenditure.
| | |
| --- | --- |
| WHAT VERSION OF COMBAT MISSION IS THE FILE FOR? | CM : SHOCK FORCE |
| WHAT IS THE SCENARIO / MAP TITLE? | Operation NEPTUNE SPEAR |
| FILE TYPE? | SCENARIO VS AI ONLY |
| DOES THE SCENARIO / MAP REQUIRE BATTLEFRONT DLC OR MODS? | YES [PLEASE ADVISE WHAT IS REQUIRED IN DESCRIPTION FIELD] |
| WHAT SIZE IS THE BATTLE? | SMALL |
| WHAT ARE THE MAP DIMENSIONS? | 944m x 992m |
| WHAT TYPE OF BATTLE IS THIS? | ATTACK |
| WHAT IS THE LENGTH OF THE SCENARIO? | 1 HOUR – 1 HOUR 29 MINUTES |
| WHERE IS THE SCENARIO / MAP BASED? | AFGHANISTAN [AFGHANISTAN] |
| WHEN IS THE SCENARIO BASED? | JUNE 2008 |
| WHAT TIME OF DAY IS THE SCENARIO BASED? | NIGHT |
| WHAT IS THE WEATHER IN THE SCENARIO? | CLEAR |
| NATIONALITY OF SIDE ONE | US |
| NATIONALITY OF SIDE TWO | Al Qaida |
| THIS SCENARIO IS BEST PLAYED AS… | SIDE ONE VS AI |
| SUBMITTED BY? | Combatintman |

Operation-NEPTUNE-SPEAR
(0.8 MiB)
DOWNLOADS - 232