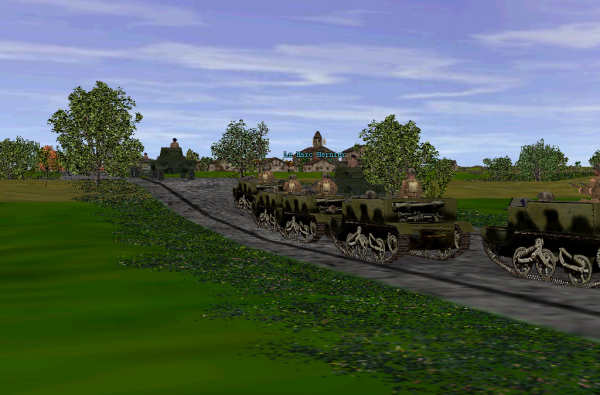 *Commonwealth Forces Add On Required*
Lets show some love to the Commonwealth forces, eh?
This scenario comes with LOADS of info:
August 1944.
Following the establishment of the bridgehead across the Seine at Vernon, 43rd Wessex Infantry Division established feelers into the countryside.
Every UK Infantry Division in France had a Recce Rgt. This battalion was equipped with Armored Cars (Daimlers, Humbers and Staghounds) and was fully mechanized in carriers. The men felt like and were an elite. They were the eyes and ears of their division, and many a town and city in Northern France and Belgium was liberated by them in the heady days of pursuit in late summer 1944.
At first, during the advance to the Seine, a deadly protocol was followed. Some villages were empty of the Germans, and the French civilians would stream out to greet their liberators with Cider and Calvados. Then in the next village or copse, an AT gun would wait and the first indication of its presence would be when the leading car brewed up. Being the driver of a Humber was a deadly job in a Recce Rgt.
The German rear-guards left behind fought a desperate fight against their pursuers, trying to hold them off, to allow more of their comrades to make it behind the next river line, where they hoped to turn around and face the Allies. Harassed from the air, and time and again hit by the over-whelming firepower resting in spear-heads of the Allied forces, they would still not give up without a fight.
5th Glosters had been unlucky – when landing them in Normandy, their transport had hit a mine. 185 men were killed, and a lot of material lost/ It took a while for them to get ready for service, and only a large draft from another regiment enabled them to be reformed. Most of the time in Normandy they undertook flank security. Once the breakout came, they came into their own.
This is a semi historical scenario showing the advance and battle for a small part of France in late August 1944. It is based on readings on these types of battles, and uses realistic OOBs for both forces.
Battle is playable as both Axis and Allies with up to 3 plans per side. Also includes original briefings and complete with pictures as well.
Enjoy!

5th Glosters Go East
(1.1 MiB)
DOWNLOADS - 260