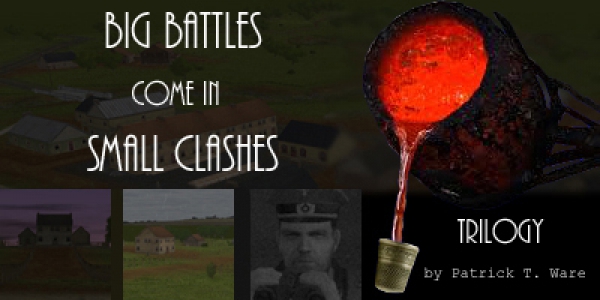 Although the enclosed files comprise a three-pack of unrelatedscenarios, I refer to this offering as a trilogy simply because these missions are my first attempt at delving into the CMBN Editor for purely recreational purposes — despite having explored it in great detail for other more inventive reasons in the past.   (Note: Please read the in-game Designer Notes for more details.)
The battles included in this package are all fictitious, small scale infantry-only actions.  They are as follows:
Beach Front Property – In an amphibious landing, a company of U.S. infantry hits the shore on the western side of the Cotentin Peninsula in support of the post D-Day ground operations.  Their objective is to seize a Coastal Manor overlooking the beach as well as the seaside road that partitions it from the nearby village.
Primrose Path – Segregated from friendly forces during a violent German counterattack, the remnants of a U.S. infantry platoon escape destruction yet find themselves lost in the Norman hinterland/countryside behind enemy lines.  In their desire to escape their desperate situation (and a rain squall), they come across an oxcart foot path that leads them towards their destiny.
The Deutsch Mark – In a daring night raid, a tiny band of highly-motivated, elite U.S. paratroopers is airdropped well behind enemy lines in order to locate a single individual.  In search of a measure of both justice and retribution, their mission is to eliminate or otherwise capture a Nazi officer who commands a grenadier regiment that was found to have committed war crimes during Operation Luttich (The Battle of Mortain).
What awaits the CM tactician from the minute your virtual troops hit the objective area of each scenario is meant to test your tactical planning, coordination and command restraint skills.
PLAY as U.S. vs. A.I. ONLY.  This pack is NOT meant for H2H confrontations being that each individual scenario requires the attacker to maintain a certain degree of covertness from the outset, which would give the defender an unfair advantage in knowing that the opponent is approaching the field of battle with very specific objectives in which to accomplish.
Instructions: Simply unpack the zip folder AND its internal contents and place the three separate .btt files in your computer's CMBN "Scenarios" program folder.
  Enjoy and good luck!
wyoproducer

Big Battles Come In Small Clashes - Trilogy (2.8 MiB)
DOWNLOADS - 228