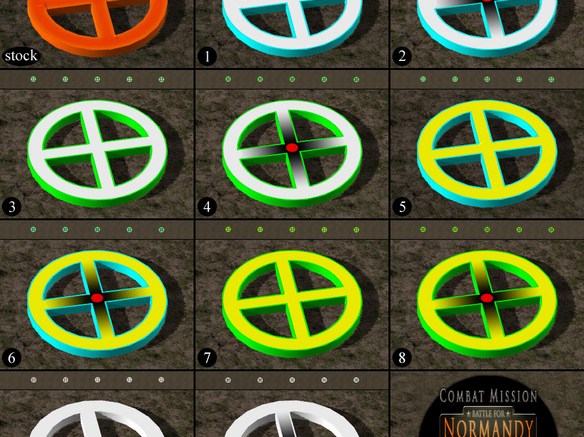 Juju's Hi-Vis TRP's
CONTENTS:
— A simple Hi-Vis Target Reference Point replacement in ten variations.
HOW TO INSTALL:
— Check the preview picture and select your desired TRP. Place the appropriate "Juju's Hi-Vis TRP ##.brz" in your "Combat Mission Battle for Normandy\Data\Z" folder. If this is your first mod and there is no "Z" folder in your "Data" folder, simply create one.
HOW TO DELETE:
— Remove "Juju's Hi-Vis TRP ##.brz" from your "Z" folder.
GAME COMPATIBILITY:
— CM:BN base game.
— CM:BN Commonwealth module.
ISSUES:
— None!
PROGRAM USED:
— Good old Photoshop 7.
THANKS TO:
– Tanks A Lot, for testing and advice.
https://drive.google.com/file/d/1wI0ZuVR1DxJqfBrTQB4GVo7foBKbARD6/view?usp=sharing