Joined

Dec 10, 2020
Messages

135
Age

17
Location
Hi there everyone,
This is my first ever DAR, so if you think that i could add something to this DAR report feel free to let me know. My opponent has also made a DAR from his perspective, if you want to look at his perspective you can check it out right here:
https://www.thefewgoodmen.com/thefg...r-jackal2100-syria-vs-menofwar93-dutch.32576/
My opponent for this match is jackal2100 as Syria, and i myself am playing as the Dutch.
The map we are fighting on is roughly 2km by 2km and has 5 VP's (2 Major and 3 Minor). The major VP's are in the NW and NE corners of the map, and are 2 highway objectives. The village is a min VP and is located in the center upper part of the map on a bit of higher terrain. The remaining 2 min VP's are located in the SE part of the map, 1 of them is a farm and the other consists of a few houses along a road. On my side of the map is a long ridgeline which can mask the advance of my forces to the left.
This is the map as viewed from my perspective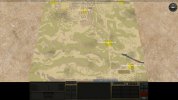 I have split the part in 3 parts: The left, middle and center.
Above is the view from my left: the left consists of a 2 small hills on my side on which i can establish a base of fire. Furthere more, the left flank consists mostly of woodland and has lots of ups and downs in the terrain.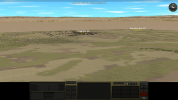 Above is the center: Between the village and my deployment zone is a huge piece of open ground, with the village being on high ground. The open ground is indefelade from the village and at a certain point i am save from direct fire from the village. As on the left side i have a long stretch of high ground on which i can establish a base of fire.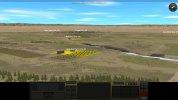 This is the view from the right: in the corner on my side there is 1 min VP and a hill with some trees on it. This makes a good position for ATGM's or vehicles and observers, but it is entirely visible from nearly all off my opponents side (especially from the village roofs, which i fear can have ATGM's on them. So if i want to get to this position, i need to clear out the farm objective first. On this side there is also a ford, which can be crossed by both men and vehicles. On the other side however there is very open ground and as soon as i cross it i will be exposed to fire from the village or fire from the Road North objective.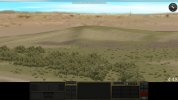 I quickly identified 2 pieces of critical terrain: Above is a hill not to far from my deployment zone. Altough the hill is not very tall, it gives a pretty good view of the surrounding enviroment .I expect that my opponent realises that this hill is of great strategic value to me, so i find it to hazardous to make this a fire support position, so i decided to use this hill only as a observation point for Artillery observers and JTAC's.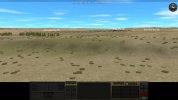 Here we see a bit of highground on the left.This position doesn't give me the best view to the left, but i can see pretty mutch all the way to the road north objective. I decide to make this a fire support position and place Gill ATGM's here.