AD Night Jump [updated 26/01/2016]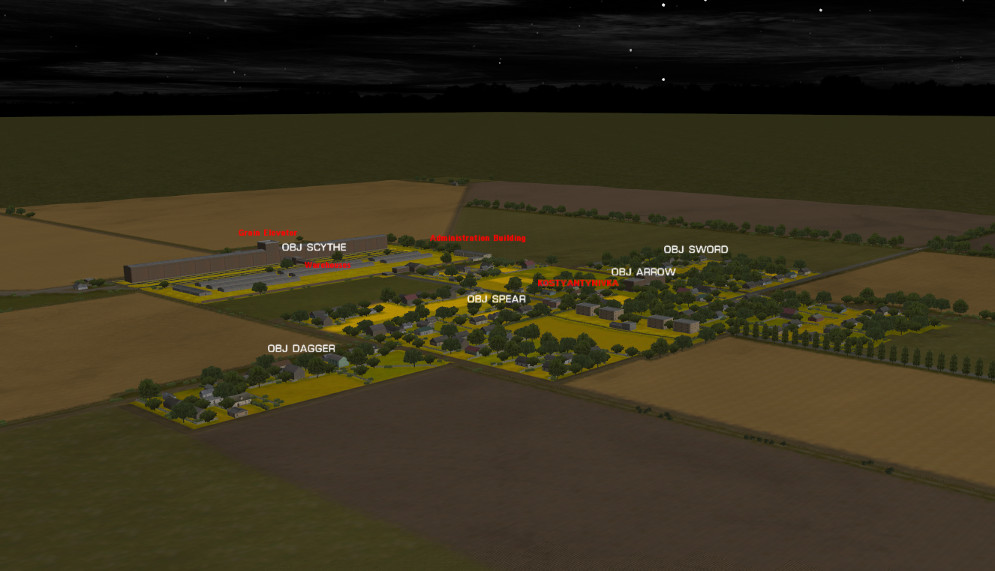 The war everyone feared has finally come. Russian tank units are flooding into Ukraine, and the combined UKR and NATO forces in Europe are not enough to stop them. The best NATO generals can do is stem the tide until armored divisions from the US can arrive on the continent. The XVIII Airborne Corps is dropped all over Ukraine in a desperate attempt to stop the Russians wherever they can. Your division, the 82nd Airborne, is dropped near Kherson to help defend the southern route to Odessa.
Your battalion's objective is a large grain elevator, a veritable mountain in the flat sea of steppe, able to observe critical avenues of approach for miles. The infantry company you command has its DZs closest to this objective and as you exit the plane into the cold night sky, the angry tracers racing up at you from the buildings surrounding the grain elevator reveals the enemy has gotten there first… BLUFOR vs AI only.
| | |
| --- | --- |
| WHAT VERSION OF COMBAT MISSION IS THE FILE FOR? | CM : BLACK SEA |
| WHAT IS THE SCENARIO / MAP TITLE? | AD Night Jump |
| FILE TYPE? | SCENARIO VS AI ONLY |
| DOES THE SCENARIO / MAP REQUIRE BATTLEFRONT DLC OR MODS? | YES [PLEASE ADVISE WHAT IS REQUIRED IN DESCRIPTION FIELD] |
| WHAT SIZE IS THE BATTLE? | MEDIUM |
| WHAT ARE THE MAP DIMESIONS? | 1952×1952 |
| WHAT TYPE OF BATTLE IS THIS? | ATTACK |
| WHAT IS THE LENGTH OF THE SCENARIO? | MORE THAN 1 HOUR 29 MINUTES |
| WHERE IS THE SCENARIO / MAP BASED? | UKRAINE [BLACK SEA] |
| WHEN IS THE SCENARIO BASED? | JUNE 2017 |
| WHAT TIME OF DAY IS THE SCENARIO BASED? | NIGHT |
| WHAT IS THE WEATHER IN THE SCENARIO? | CLEAR |
| NATIONALITY OF SIDE ONE | BLUFOR |
| NATIONALITY OF SIDE TWO | REDFOR |
| THIS SCENARIO IS BEST PLAYED AS… | SIDE ONE VS AI |
| SUBMITTED BY? | SeinfeldRules |