CMBS Summer In The City By The Forger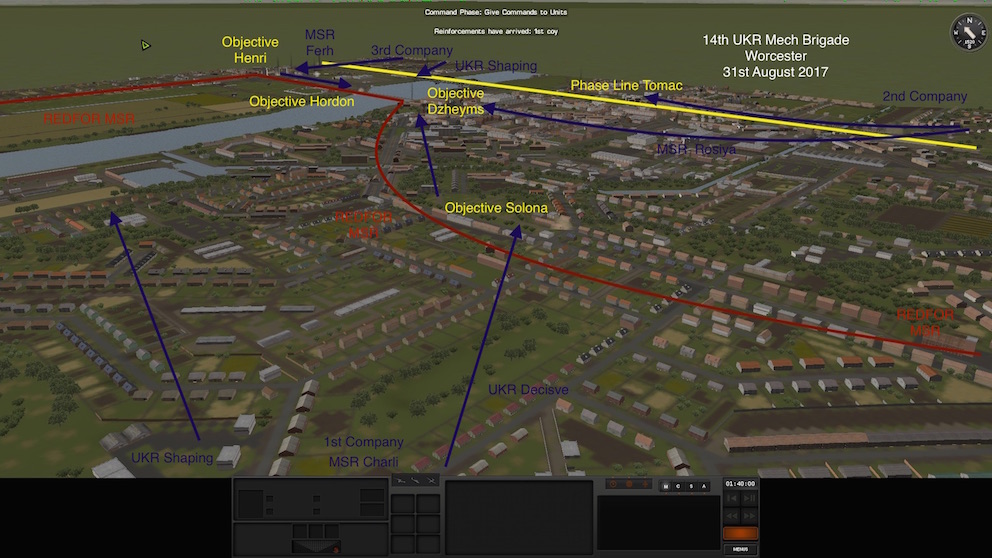 Little bit left field, even a bit bizarre but Ive chosen Worcester, UK as the location for this battle.
Map not a 100% accurate due to patience, some limitations with bridges etc, but I gave it a go and hopefully does it some justice.
Its my home City and I was interested in exploring some of the terrain features that would cause issues tactically for an attacker.
The City is dissected by an elevated section of the Great Western Railway which runs East to West and the Birmingham Worcester Canal which runs North to South parallel to the River Severn with its road and rail bridges.
Strategic Situation:
The Russians are now in retreat, with intel from our recon, we believe they are conducting a tactical withdrawal from the City tonight.
They have managed to extricate a large portion of their heavy equipment to the East of the River and are denying UKR the Road Bridge with a Rearguard Force to enable as many of the straggler units to cross as possible.
Join UKRs Colonel Zhakun to trap and destroy these forces with reinforced elements of his 14th Mechanised Brigade and secure the Road Bridge.