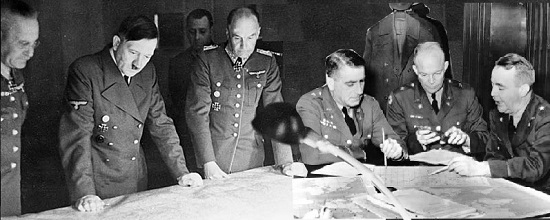 Once upon a time I decided that it was time to begin playing a few of the different quick battle maps which are shipped with the game. And lazy as I sometimes am I went to search for information about those maps and found the pdf file which contain pictures of them all. With the help of that pdf file I picked a few quick battle maps which seemed interesting and could be fun to fight on.
As I didn't want to know which enemy troops I'm facing I also decided to pick the AI-opponent's troops and technical equipment and let the maps rest for a while and long enough for me to forget what I had chosen for me and the AI.
During the time when I was preparing these maps I understood from reading on the CM-forums (Battlefront and TheFewGoodMen) that some members don't play quick battles because they are either too lazy to pick the forces or they find it too hard to know what to pick. So as I sometimes can be a real gentleman I decided to prepare a few more Quick Battle maps and make a little collection for those members and myself.
I have prepared the quick battle maps I found most interesting and now those who want can download these and put them in the Saved Games folder to make the best of what has been given them to fight with. All quick battles in this collection are Player-Axis vs AI-Allies and two hours long no matter the size of the map (Although the AI-orders of course sometimes are less than that).
Most of the battle maps contain troops with a mix of regulars and veterans for both axis and allies, with one or two crack or elite squads added. And some of the maps contain troops with a mix of conscripts and greens for axis, with one or two regulars or veterans added, which meet a bit stronger allied opponents.
Although the difficulty sometimes is set to iron, the difficulty is mainly set to elite as I understand that most people prefer that one. I have tried to divide the different axis-companies in sections on the map to make it easier for the player to find them. You just have to make the changes you want to these positions before actually starting the fight.
There is also a quick battle map from the game (A December Morning) which I have changed from being a meeting engagement into being an attack.
These aren't scenarios but can maybe be viewed as such anyway as none of those who download and play them knows what troops they have and what troops they meet.
I hope you have fun with these and enjoy some of the quick battle maps which come with the game that you otherwise maybe wouldn't have been playing.
Quick Battle Maps:
— Aachen (1200×1040) 156a1
— Aachen-the-Factories 175m
— A December Morning Attack (Attack) 182a2
— A December Morning Attack (Defend) 182a2
— Baraque de Fraiture (1168×1456) 163a1
— Break the Siege (1008×1008) 081a1
— Cheneux (1696×752) 083a1
— CMBO Chance Encounter (832×800) 113m
— CMBO Classic Riesberg (912×688) 186a2
— CMBO Classic Wiltz-Revised (1152×960) 185m
— Cutline (800×800) 157m
— Foy (1072×1200) 166p
— Hamlet-Grosshau 169p
— Hofen (2672×1200) 087a2
— La Gleize (1600×2000) 094m
— Lanzerath (1568×1200) 153a1
— Marnach (1712×1504) 131a1
— Monschau (2400×1200) 086a1
— Noville (2000×2000) 168m
— Poteau (1104 X 1056) 088m
— River-of-Blood (1800×1008) (attack) 090a1
— River-of-Blood (1800×1008) (defend) 090a1
— Rocherath & Krinkelt (1808×2304) 089a1
— Stavelot (1040×2000) 063a1
— Stoumont (1584×1344) 093a1
— Verdenne (1376×1008) 019a1
— Forest-Rough (912×800) 183m
— Forest-Rural (832 X 496) 143m
— Hills-Forest (1504×1200) 107a1
— Hills-Village (1200×1200) 001a1
— Hills-Village (1008×1120) 002m
— Hills-Village-Damage (1200×1200) 016a1
— Hills-Village-Damage (1008×1120) 015m
— Hills-Water (1040×960) 127a1
— Huge Forest-Rough (2144 X 1920) 056a2
— Open (1056 X 1088) 126a1
— Open-Hills (1008 x 1120) 008m
— Open-Rural (753×496) 073a2
— Open-Rural (800×608) 023m
— Open-Rural (688×1072) 024m
— Open-Rural (576×912) 049m
— Open-Rural (1552×640) 099m
— Open-Village (895×1200) 106a1
— Open-Village (1232 x 784) 051m
— Open-Village (560×672) 194m
— Open-Village (832×400) 196m
— Open-Water (688×1072) 109a1
— Rough-Forest-Water (1200×1200) 198m
— Rough-Town (1040×960) 130a1
— Rough-Town-Water (1168×704) 044a1
— Rough-Village (1120×1120) 129a1
— Small-Hills-Water (576×528) 119a1
— Small-Open (608×400) 179m
— Small-Open-Forest (320×512) 020a1
— Small-Rough-Water (704×496) 103a1
— Small-Town (384×592) 076a1
— Small-Village (496×496) 082m
— Small-Forest-Rural (400×608) 184m
— Small-Town (544×672) 077m
— Tiny-Hills (400×352) 199m
— Tiny Open-Rural (528 X 384) 100m
— Tiny-Rough-Water (240×208) 152a1
— Tiny-Village (480×480) 104m
— Tiny-Village (528×384) 101a1
— Tiny-Village-Hills (288×640) 110a1
— Tiny-Village-Water (288×640) 187m
— Tiny-Village (480×480) 104m
— Town (336×672) 197m
— Town (752×672) 079a1
— Town-Forest (768 X 560) 037p
— Town-Water (800×608) 145a1
— Town-Water (1408×1152) 042m
— Village-Forest (800×640) 195m
— Village-Forest-Damaged (800×1072) 041a1
— Village-Forest-Water (800×1072) 040p
— Village-Hills (1008 X 1200) 007p
— Village-Open (736×912) 140a1
— Village-Open (800×688) 136m
— Village-Water (560×1072) 025a1
— Village-Water-Damaged (560×1072) 027a1
Quick Battles https://tinyurl.com/y4uqvxjm