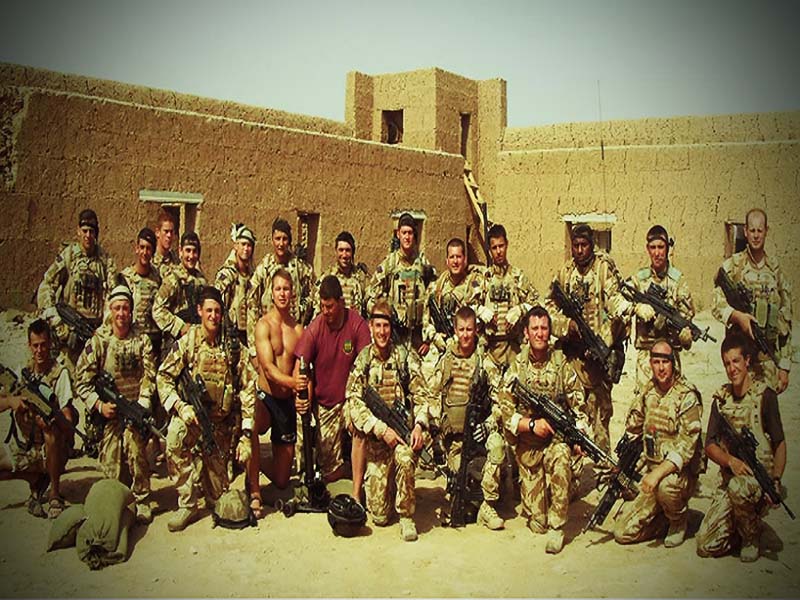 This mission is an attempt, within the constraints of the mission editor, to recreate the real events of 09 May 2009 in which Lieutenant Mark Evison, 7 Platoon's Commander, was tragically killed in action. It goes without saying that this mission is dedicated to his memory and to the brave men (pictured above) under his command who fought in conditions of extreme difficulty on that day.
The area mapped is the actual ground fought over on that day.
For those that want to know more about the events of that day I highly recommend Toby Harnden's book 'Dead Men Risen – The Welsh Guards and the Real Story of Britain's War in Afghanistan'. One of the episodes in the BBC Series 'Our War' deals exclusively with this action. Needless to say, I consulted both sources during my research. I hope you enjoy this mission.
This mission requires the British Forces Module.
| | |
| --- | --- |
| WHAT VERSION OF COMBAT MISSION IS THE FILE FOR? | CM : SHOCK FORCE |
| WHAT IS THE SCENARIO / MAP TITLE? | Green 9 |
| FILE TYPE? | SCENARIO VS AI ONLY |
| DOES THE SCENARIO / MAP REQUIRE BATTLEFRONT DLC OR MODS? | YES [PLEASE ADVISE WHAT IS REQUIRED IN DESCRIPTION FIELD] |
| WHAT SIZE IS THE BATTLE? | MEDIUM |
| WHAT ARE THE MAP DIMESIONS? | 960m x 1168m |
| WHAT TYPE OF BATTLE IS THIS? | PROBE |
| WHAT IS THE LENGTH OF THE SCENARIO? | MORE THAN 1 HOUR 29 MINUTES |
| WHERE IS THE SCENARIO / MAP BASED? | AFGHANISTAN [AFGHANISTAN] |
| WHEN IS THE SCENARIO BASED? | JUNE 2008 |
| WHAT TIME OF DAY IS THE SCENARIO BASED? | DAY |
| WHAT IS THE WEATHER IN THE SCENARIO? | CLEAR |
| NATIONALITY OF SIDE ONE | British |
| NATIONALITY OF SIDE TWO | Taliban |
| THIS SCENARIO IS BEST PLAYED AS… | SIDE ONE VS AI |
| SUBMITTED BY? | Combatintman |