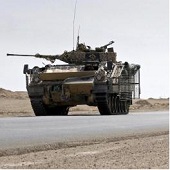 After finishing lunch on 05 August 2004 at your base location in the Shatt al Arab hotel, 6 Platoon, B Company, 1st Battalion the Princess of Wales' Royal Regiment (1 PWRR)) which was on duty as the Battlegroup armoured Quick Reaction Force (QRF) was hurriedly summoned to the Operations Room to be briefed on the enemy situation at the Qarmat Ali Bridge. Half of the Platoon (2 and 3 Section) crashed out of the camp immediately.
This mission is based on a real action which took place at the time and date stated by 6 Platoon, B Company, 1 PWRR during its tour of Iraq in 2004. The action is described in Richard Holmes' book Dusty Warriors (pages 286-289).
The design intent for this mission was simply to depict this small action as described and create a quick, simple and fun mission that can be played in a single sitting a 'beer and pretzels' scenario if you will. Therefore I sincerely hope that I have achieved that intent and that you have fun playing it.
Finally, this mission is dedicated to all of those in B Company, 1 PWRR who fought in Iraq in those extremely dangerous and challenging times.
[wpfilebase tag=file id=709 /]