CMBN 20 Minutes To Breakfast [Real Time Allies vs AI]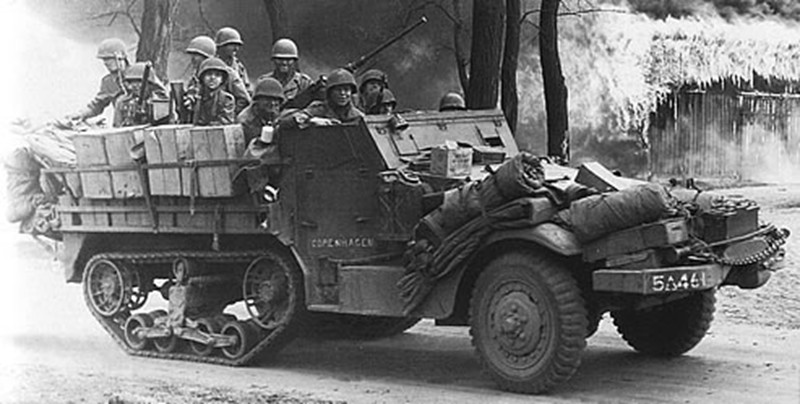 I have played this one out a few times … it is only a tiny to small scenario to be played in real time … best without icons.  
It's not historic, lasts 20 minutes and has 5 working AI plans.
Played out a game on YouTube… under nelson1812… called it "20 Minutes to Breakfast".
[Dont watch the video until after you have played as as spoilers contained]
Its a fun scenario you can play quickly when you have 30 minutes to kill at home. 
Notes on the game.
The road ahead needs to be secured. A courier on a motorcycle has reported being fired upon late yesterday.  We need to ensure the track road, remains clear.  One Scout has already gone ahead and has reported a small (?) enemy force.  You must secure the track road.  Hold the crossroads, and secure Nelsons shed (farm).
4 Troop's
Sections 1 to 4, with half tracks, a white's scout car and a light mortar together with various support troops. There will be 2 M5 Stuarts to give you support.  Its a mixed bunch, fully rested though.
Not sure… what Axis force is ahead. Small force, perhaps………………..,
Plan… there is no need for a plan, there cannot be much out there…
Oh… sorry for the short notice, …….but your men are all we got at the moment.  One Stuart, and a half track have been delayed, will arrive 10 minutes late.
Proceed to advance towards the road with care…
1) Secure crossroad… (Axis gains 50 points if taken)
2) Nelson farm will prove handy for keeping an eye on the track ahead. (gains allies 50 points).
3) Five different plays, have fun.
Designers notes:
Thanks to play tester:
Ted (Hedgehog FGM)
Nathan (Nathan Gun FGM) (on-going test)
Small game best played in real time.
Played it without icons, worked well for me.
See YouTube … Nelson1812
(have not tested any other platforms)
Game has 5 different  axis plans…
Have fun ….
Nelson1812
| | |
| --- | --- |
| WHAT VERSION OF COMBAT MISSION IS THE FILE FOR? | CM : BATTLES FOR NORMANDY |
| WHAT IS THE SCENARIO / MAP TITLE? | 20 minutes to Breakfast Real time Allies vs AI |
| FILE TYPE? | SCENARIO VS AI ONLY |
| DOES THE SCENARIO / MAP REQUIRE BATTLEFRONT DLC OR MODS? | NO |
| WHAT SIZE IS THE BATTLE? | SMALL |
| WHAT TYPE OF BATTLE IS THIS? | PROBE |
| WHAT IS THE LENGTH OF THE SCENARIO? | LESS THAN 30 MINUTES |
| WHERE IS THE SCENARIO / MAP BASED? | FRANCE [BATTLES FOR NORMANDY] |
| WHEN IS THE SCENARIO BASED? | JUNE 1944 |
| WHAT TIME OF DAY IS THE SCENARIO BASED? | DAY |
| WHAT IS THE WEATHER IN THE SCENARIO? | HAZY |
| NATIONALITY OF SIDE ONE | Brits |
| NATIONALITY OF SIDE TWO | Germans |
| THIS SCENARIO IS BEST PLAYED AS… | SIDE ONE VS AI |
| SCENARIO / MAP DESCRIPTION | Small open |