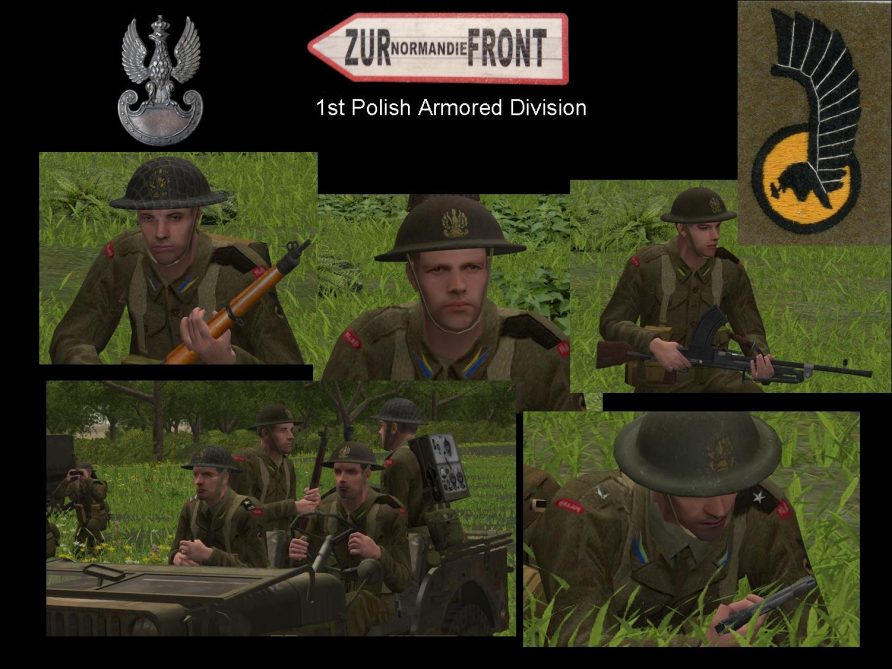 Here is a mod for the 1st Polish Armored Division.
The 1st Polish Armored Division was engaged in Normandy from August 1944.
She fought in the plain of Caen Falaise before becoming famous during the battle of the Falaise pocket, then she continued her journey through the north of France, Belgium, Holland and finished her race at Wilhelmshaven in May 45.
Each regiment is distinguished by its collar badge.
The basic game offers us the 10th dragon which is the motorized infantry regiment of the division.
However there is a small problem… the 10th Dragon to show that its was a motorized unit wears in combat the cotton outfit without any badge other than that of rank.
In addition to the 10th dragon in cotton uniform, I added the 3 infantry battalions and the reconnaissance unit
The 3 infantry battalions: Podhale, 8th, 9th Chasseur and the 10th PSK, reconnaissance unit, wear the wool battledress with distinctive collar badge.
These units also carry a black epaulet on the left shoulder
This epaulette specific to the 1st Polish DB is a historical reminder.
The 1st DB was born in Scotland during the war of the 10th armored brigade which is the 1st Polish mechanized formation. During the Polish campaign this unit wore a black leather jacket. Commanded by General Maczek, it inflicted heavy losses on the Germans, despite its weakness, which soon nicknamed it the schwarze brigade. It is to preserve this memory that the wearing of the black epaulette will become generalized throughout the division.
I also removed the MK3 helmet which was not worn by the division during the conflict
How to use
Depending on the scenario, you install the file corresponding to the regiment engaged in your file z
Example for the scenario "the Mace" used either the podhale or the 8th or the 9th (the 8th is the hardest engaged)
Or for Linking Up and Breaking Out use the 10th dragon
Bon jeu !!
https://drive.google.com/open?id=1oVDr0YMvXnOmtg_VbGlHnJyC3hGhLtXP
Falais