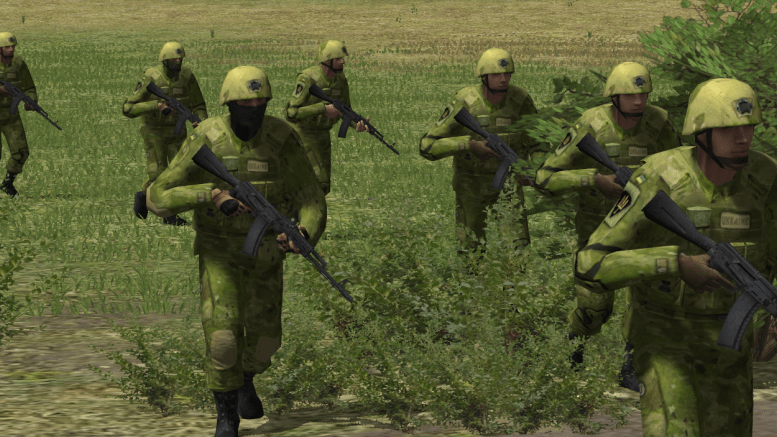 This is a huge mod what will replace standard ukrainian uniform with two new ones: Ukrainian "Assault Suit" and "Mabuta Mk-2" both in Field Toad Camouflage.
Ukrainian Marines and Special Forces are wearing both types of uniforms finished in this unique camouflage.
It was created by the same company what created "Varan Camouflage" and Mabuta-Mk 2 uniform – P1G-Tac.
Wearing this uniform your units will perfectly fit in the game.
This is how Mabuta Mk-2 will look like in the game (you might remember that uniform by using my first mod "Mabuta Mk-2 Varan Camo"):
This is how Assault Suit will look like:
Units in the game will be predominantly wear Assault uniforms while fewer soldiers will be wearing Mabuta Mk-2 (its way more expensive).
All the gear was reworked accordingly – for example knee protection:
or helmets
Patches of Ukrainian Marines were added as well.
NOTE: This mod will not work with my "Varan Mabuta Mk-2" mod. You need to delete it before using this one. But you will lose nothing because Mabuta Mk-2 itself is part of this mod, although it is covered by a different camouflage now.
NOTE N2: All the skins for this mod will came out as a stand alone mod because I want people with any of my mods seing those boots, gloves, eye protection, face masks etc. So it will came out soon as a stand alone mod.
NOTE N3: This mod will not conflict with any of my Digital Camouflage mods.
I hope you will enjoy it!
Glory to Ukraine!
More about my mods on my page on battlefront forum: http://community.battlefront.com/topic/125853-oleksandrs-modding-space/
https://drive.google.com/open?id=1jZisQSeU8d_TvtP-7N9tdZod_lE5X6Zs