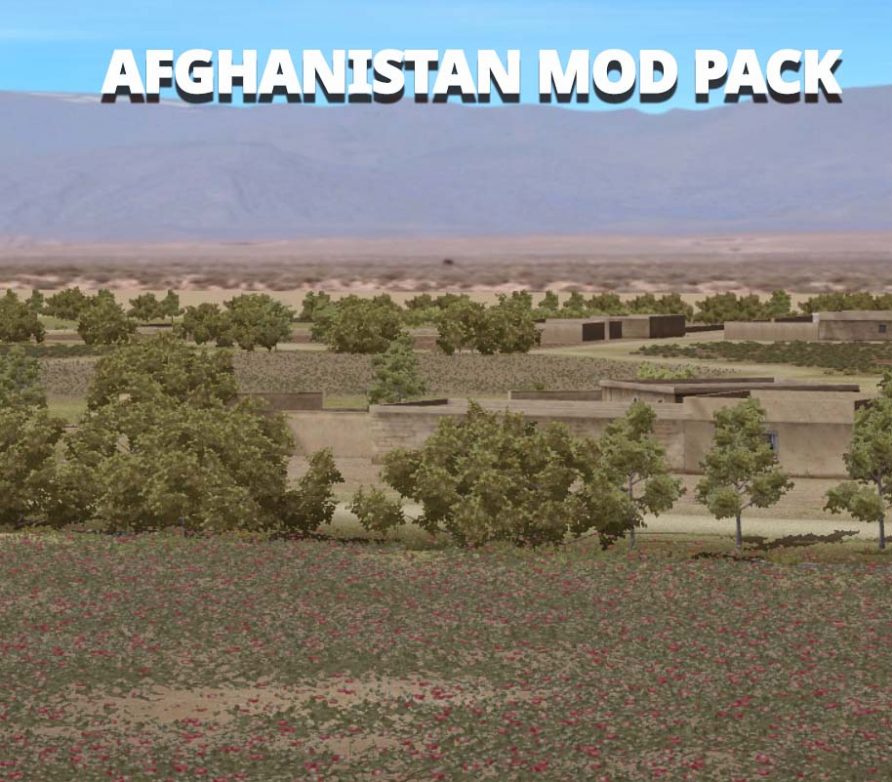 Afghanistan Mod Pack for Combat Mission Shock Force 2
This mod includes the following items :
6 mud houses
2 mud walls
2 opium poppies textures
a small test map
1/ Mud houses :
These mud houses are my take on the typical houses found in Afghanistan, made out of dried mud. I based this mod on the green zone of Helmand province, therefore they are perhaps less suitable for the more mountainous regions where stones are more prevalent. But they will probably work better than the stock buildings. I suppose they could also work for the more rural areas of Syria or Iraq.
These mud houses are made to work alongside Kieme's CMSF in HD buildings. You can have both mods installed at the same time. The mud houses, because they are located in a directory whose name begins with the letter z, should replace some of the buildings made by Kieme. At first I only intended to replace a couple of buildings but ended up making more and more so that only two of Kieme's buildings are intact so to speak.
Finally, although they are modular buildings and can have any number of floors, they work best for single or two storey buildings obviously.
2/ Mud walls :
Not much to say about these except Satan's mud walls that he made for SF1 are a good alternative. Even though they are perhaps slightly too low resolution, they might still look better than the ones I tried to make.
3/ Opium poppies :
These replace grain tiles.
There are two different textures included in the mod. The default one and another one with a more brownish/yellow colour that is found in late summer when crops are ripe.
4/ Mod tags :
In order to see the mods in your game, you need to add one or several of the mod tags that are linked to the textures.
mudhouse
mudwall
poppies or poppiesyellow
5/ How to install :
Extract the whole pack in the following directory :
Documents/Battlefront/Combat Mission/Shock Force 2/User Data/Mods
Copy the mod tag txt file into the following directory :
Documents/Battlefront/Combat Mission/Shock Force 2/Game Files
Then open the scenario editor and under the mission menu, go to mod tags, click on import and select the mod tag.txt file.
Copy the test map into the following directory :
Documents/Battlefront/Combat Mission/Shock Force 2/Game Files/Scenarios
Zveroboy
https://drive.google.com/file/d/1WypcgP1h-7G-eIDwWLIcs8b2W5A9AIW0/view?usp=sharing