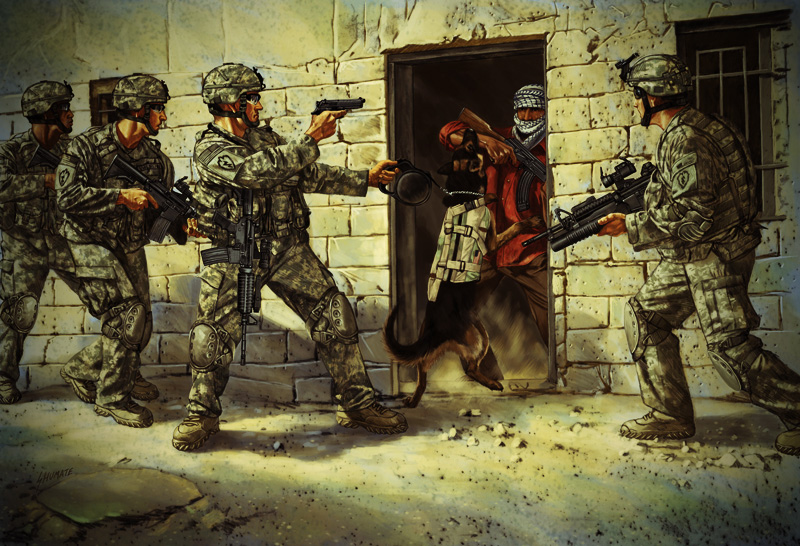 The Castle Keep is a fortress-prison connected by causeway. The central cell holds a very important member of the NATO high command that fell into Russian hands following a shoot down and ejection of its pilot. Unknown to Russian forces this pilot has very detailed knowledge of NATO force disposition and other top secret information. This man needs to be rescued at all costs. NATO, which in this case means United States Army is pulling out all the stops in an all-out effort to get our man back.
Your mission is to rescue the high value POW using your elite commando unit. The Mech forces will take and hold the crossroads, and eliminate all opposition.
About 20 minutes into the mission several vehicles will be made available to rapidly move your commandos and the Asset out of the area and back to friendly lines.
There is an enemy QRF enroute their ETA is about an hour or so. This QRF is prepared to wipe you out, if you don't get in -out ASAP.
You have some substantial amour assets as well as fast movers and drones to make this mission work, good luck.
Designed by Euri
| | |
| --- | --- |
| WHAT VERSION OF COMBAT MISSION IS THE FILE FOR? | CM : BLACK SEA |
| WHAT IS THE SCENARIO / MAP TITLE? | THE CASTLE KEEP |
| FILE TYPE? | SCENARIO VS AI ONLY |
| DOES THE SCENARIO / MAP REQUIRE BATTLEFRONT DLC OR MODS? | NO |
| WHAT SIZE IS THE BATTLE? | MEDIUM |
| WHAT ARE THE MAP DIMESIONS? | 812×1232 |
| WHAT TYPE OF BATTLE IS THIS? | ATTACK |
| WHAT IS THE LENGTH OF THE SCENARIO? | 1 HOUR – 1 HOUR 29 MINUTES |
| WHERE IS THE SCENARIO / MAP BASED? | UKRAINE [BLACK SEA] |
| WHEN IS THE SCENARIO BASED? | JUNE 2017 |
| WHAT TIME OF DAY IS THE SCENARIO BASED? | NIGHT |
| WHAT IS THE WEATHER IN THE SCENARIO? | CLEAR |
| NATIONALITY OF SIDE ONE | US ARMY |
| NATIONALITY OF SIDE TWO | RUSSIAN |
| THIS SCENARIO IS BEST PLAYED AS… | SIDE ONE VS AI |
| SUBMITTED BY? | Mark C. |