CW – TWC Nijmegen Finale (H2H or Allied vs. AI)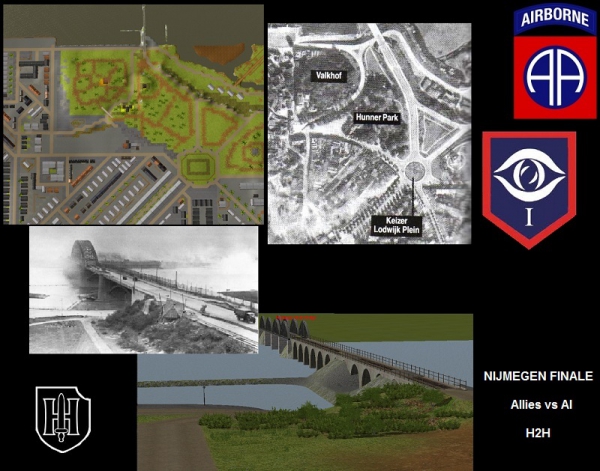 There were two bridges at Nijmegen in 1944. This scenario depicts the dramatic confrontation between the Guards Armoured, 82nd Airborne Division, and an SS battle group in Hunner Park as the spearhead of 30 Corps fought desperately to keep the drive north to Arnhem alive during Operation MARKET-GARDEN.
Playable H2H or vs. the AI as Allied. Cannot be played solo as German.
An interesting idea for a multi-player PBEM may be to split the Allied side, with one player taking the Americans and the other the British, with appropriate house rules to reflect the limited command and control prevailing between the two forces during the actual battle, particularly the challenge of having British tank support for American infantry.
Scenario author: Michael A. Dorosh
The author stayed in Nijmegen in the summer of 2010 for three nights while on a European battlefield tour and visited the road and rail bridge battle sites with a friend. Some photos and observations are posted at the following URL:
http://boardgamegeek.com/blogpost/5815/nijmegen-a-walk-through-the-battlefield
The author had created a scenario based on this same situation for the CMX1 series; it had been semi-historical in nature on a fictional map inspired heavily by the ASL scenario Climax at Nijmegen Bridge.
This scenario draws heavily on historical material from Tim Saunders' book NIJMEGEN, in the excellent "Battleground Europe" series. Where necessary, elements have been altered. Other references consulted include "It Never Snows in September", a look at MARKET-GARDEN from the German side.
All feedback welcome; will gladly incorporate constructive feedback into a 2.0 version. Author contact info included in the designer's notes.
Play: Solo as Allies vs. Germans or H2H
Map Size: 650m x 700m
Force Size: Battalion (-)
Terrain: Mix of urban and park
Weather/Environmental Conditions: Clear, Day/Dusk, Dry Ground
Game length: 1:30+
Michael Dorosh