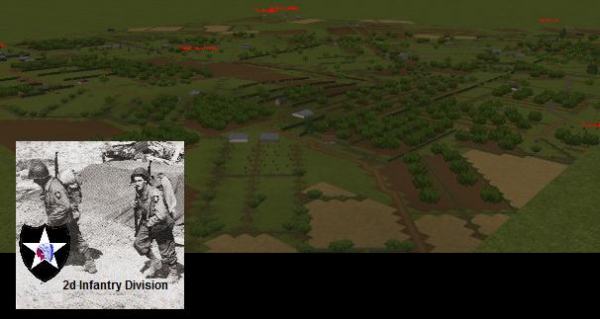 The 2d Infantry Division had been trying to take St. Lô, a major communications hub, since June. On July 11th, the Indian Head Division launched another attack towards Hill 192, a major obstacle on the way to the city. The 23d Infantry Regiment's task was to secure the eastern flank of units attacking up the slope of the hill. Just a couple hundred yards beyond the line of departure lay a deep gully that became known to the GIs as Purple Heart Draw.
Map size: 1328 x 1360m
Game length: 120
American force size: Battalion (-)
Terrain type: Bocage
Weather and Environmental conditions: Clear, Dry
Designed for play either H2H or vs AI as either side.Originally submitted May 2011 as "Purple Heart Draw".
This Version 2.0 contains substantial revisions and incorporates changes made possible by the release of CM:BN – Commonwealth Forces and MG (2.12), including the substitution of the historically present German parachute forces for the German Army troops used in the original. Other changes include:
a) major revisions to terrain modelling
b) changes to victory conditions and force set-ups, based on feedback received via the Repository and BFC Forum
c) revisions to the AI plans and order of battle
See Designer's Notes for additional detail.
While playable solo as Germans vs. AI, not recommended in that mode. Optimally played H2H, or as solo vs. the AI as American.

TWC Purple Heart Draw
(0.5 MiB)
DOWNLOADS - 278