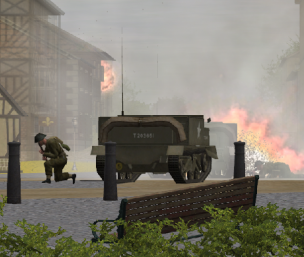 1/7th Queens Royal's arrive in Viller Bocage shortly after 13:00 hours,
June 13th 1944. Despite being overcast, it has remained dry with a
warm westerly wind.
The 4th CLY " squadrons" have also taken up positions, knowing
it will not be long before the Germans will launch their attack.
Rumours are circulating, of a calamity or of a misfortune of
"A squadron" that morning. Talk of being rested, or the complaining
at the loss of their Sherman's for the new Cromwell's has disappeared.
Many now only wanted to hear or discuss news of their friends…
most were just vigilant, preparing themselves for the battle ahead.
At 13:30… the fighting changes from slight skimishing, to a full pitch battle.
Your men are now under attack…
Nelson1812

VB3AIX
(1.5 MiB)
DOWNLOADS - 439